Printable Version
2017-18 Season Calendar
You can view the entire calendar for the next season by clicking the link above

TU Event Page

Use this link for more info on each event and to sign-up for them.
Feb 16-18 - Age Group State Champs
Mar 3 - Ga-Ga Relay Meet @ Quinn Ridge (note location change), 9:00am

Mar 8-11 - Sr Sectionals @ Cary, NC
Mar 23-25 - Divisional Champs @ UGA (Athens, Ga)
Mar 30-Apr 8 - Spring Break (NO practices)
Apr 14 - Spring Workday
---
Education Column
We come across a few great articles on a variety of topics - parenting, nutrition, mental training, sports parenting, drills, etc. In this column we'll share the best one every week. Be sure to check it out and click the link to read the entire article!
Winner's Mentality
- Note: this article is about basketball, but it applies equally to a winners mentality in swimming!
"A winner's mentality is a focused form of confidence. And confidence must be earned through demonstrated performance, discipline, effort, and consistency. A winner's mentality comes from a daily commitment to excellence. You can't just wake up and have a winner's mentality, you have to earn it.
The fascinating part is, confidence is contagious. Unfortunately so is a lack of confidence. You work hard, smart, and consistently… and you win more often than not. The more you win, the higher your confidence. The winner's mentality feeds itself.
A winner's mentality also means that you are more focused on what you do than on what your opponent does. Winners focus on what they can control:" click here to read the whole article.
---
Feb Payments Past Due
February fees are now past due. Payments are due on the 1st and are considered late after the 5th. Please note that if a payment is not received by the 10th, a $25 late fee is added. You can mail a check, pay in person at the pool, or log in to your on-line account and pay by credit card or e-check. You can also pay on our Square On-line Store using the link below.
Mail payments to:
Gwinnett Aquatics
4691 Bryson Cove
Lilburn GA 30047
(Or put in coach Hugh's mailbox at the pool).
---
GwinAq's Affiliate
SwimOutlet.com
Gwinnett Aquatics is an affiliate of SwimOutlet.com. Use the link below to search SwimOutlet for some of the best prices on swim equipment. Be sure to use this link and your purchase will also support our program.
---
2017 LCM Recap
Our last LCM season was certainly one to remember! We topped our best-ever score in USA-Swimming's Virtual Club Championships (VCC), and that was thanks to our swimmers' individual accomplishments - we had our largest numbers of swimmers with A times or higher (43!). But the best display of our improvement came in the whooping 10 new club relay records set through the season! Check the links below for more info on such a great season!
2017 LCM Standard Breakers
2017 LCM IMX Scores
2017 LCM Fast 5
GwinAq LCM All-Time Top 10
2017 Spring/Summer Attendance Award
2017 LCM VCC Score Summary
2016-17 SCY Recap
What a great SCY season! We scored the most amount of points ever in USA-Swimming's Virtual Club Championships (VCC), and to do that there were plenty of individual accomplishments - be sure to check them all on the links below:
2016-17 SCY Standard Breakers
2016-17 SCY IMX Scores
2016-17 SCY Fast 5
GwinAq SCY All-Time Top 10
2016 Fall Attendance Award
2016-17 Winter Attendance Award
---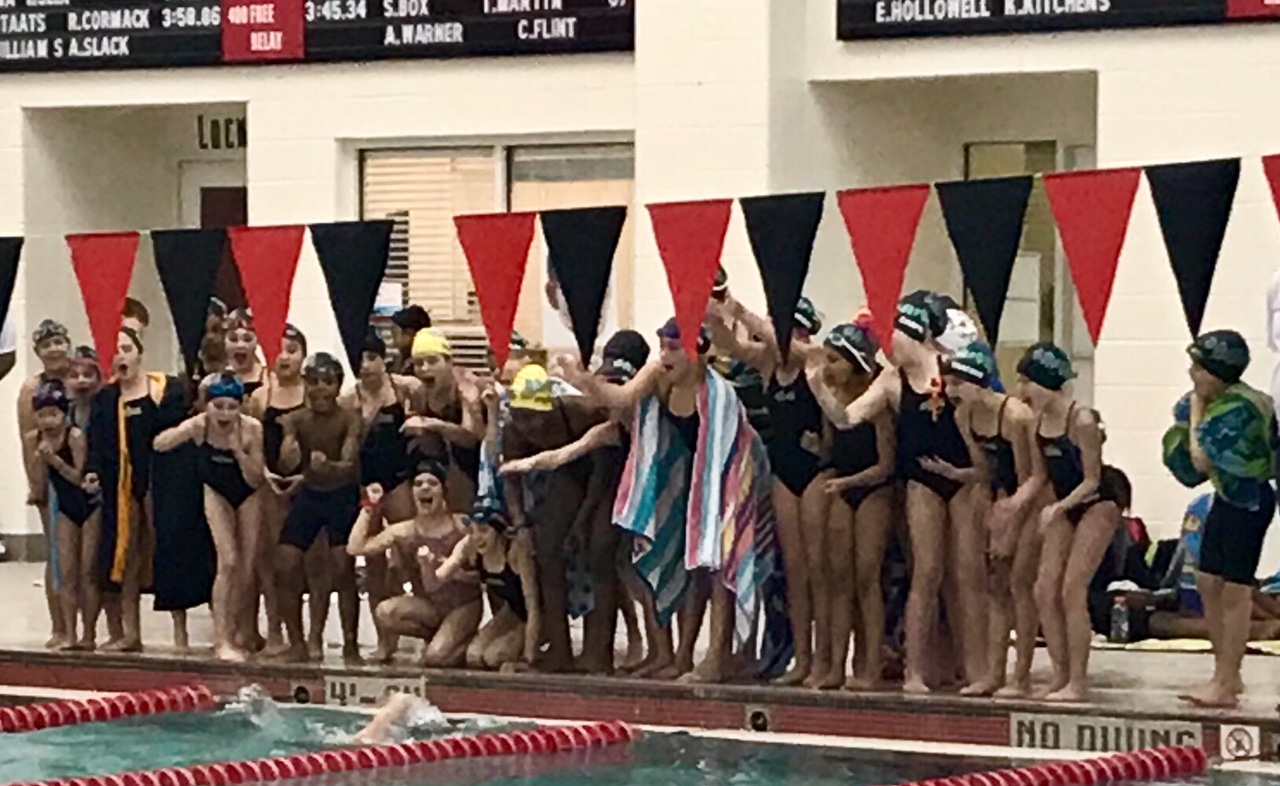 Ga-Ga Swimmers Make Most of Qualifier!
Gwinnett Aquatics swimmers made the most of their last opportunity to pick up cuts for this season at our own Ga-Ga Qualifier last weekend, with six swimmers getting their first State Qualifying times of the season, and six others adding new cuts! The six new state qualifiers were Abby Bold, Kayla Deckers, Hannah-Claire Jowers, Ella Moulder, Baylor Stanton and Freddy Xu.
Nia Fraser got her first ever AA time; Hanna Burke got her first A time of the season; Stanton, Xu, Kayden Clinansmith, Lucas Johnson and Sydney Spruiell got their first BBs; and Bria Carter, Lannon Clinansmith, Isabella Eisenman, Sean Lin, Jayden Simmons and Anishka Trehan all got their first ever B times!
Patterson, as well as Delaney Benford, Carter Dehnke, Jaden Henry, Jenna Inlow, Jen Kelly, Sean Lin, Tanner Manson, Caitlin and Carly Miller, Jillian Rovie, Addison Shaffer, Sydney Spruiell, Dylan Willis and Andy Zhu were all 100% best times! You can check complete meet results, team results, and our updated Standard Breakers list in the links below.
And of course, none of that great swimming would have been possible if not for all the work put in by our parents! This was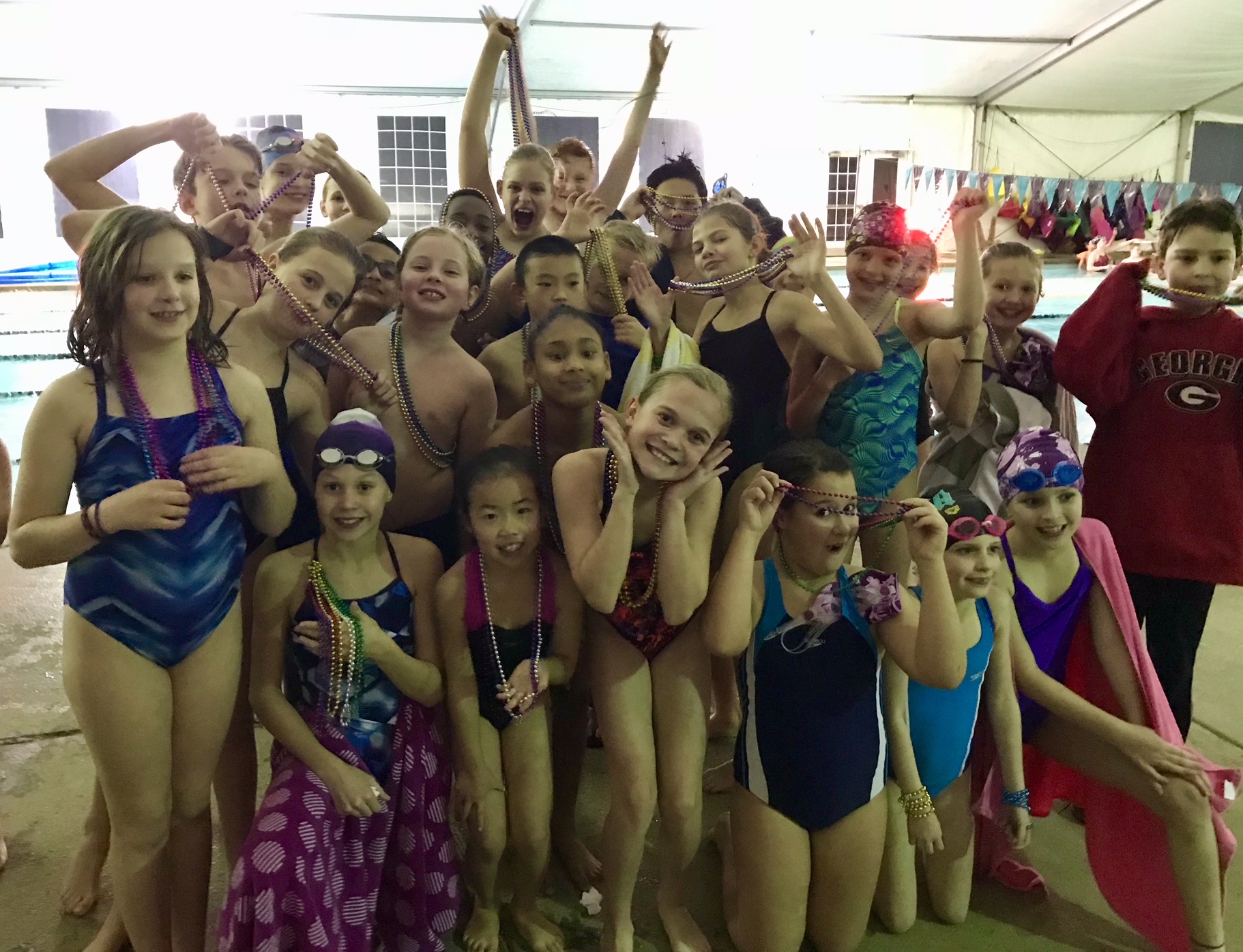 another great meet hosted by Gwinnett Aquatics, and at this point we are well known in the LSC for that! Thank you to all families who helped out and did such a great job doing so!
Following the meet earlier this week, all our groups got to mix up some fun and hard work during our Mardi Gras practices! On top of enjoying their personal improvement, swimmers got to earn some beads for kicking fast, racing hard, showing quality fundamentals - turns, streamlines, etc - and scavenging the bottom of the pool, as well as answering some trivia questions.
Up next we have a great group of swimmers heading to Age Group State Champs this weekend. Then we'll have our Relay Meet (which got moved back to our pool), followed by Senior Sectionals, and then the ENTIRE team will finish out the season at Divisional Champs March 23-25 at UGA.
Georgia Age Group State Champs This Weekend, Feb 16-18
The Georgia 14&U State Championships is this weekend Georgia Tech (750 Ferst Dr NW, Atlanta, GA 30318). While our group this year is a little smaller than last year's, it is still one of the largest groups we've taken in several years. In addition, it looks like what we might be missing in quantity we are ready to make up for in quality! Plus, thanks to a great meet last weekend, we added a few more individual entries, and quite a few more relays as well! In one of the few meets of the season in which we swim for team points, we are looking to match or outscore last year's team!
Wear last year's team shirt (white) on Friday, this year's shirt (gray) on Saturday, and either your winter training shirt (light blue) or last year's Divisionals shirt (dark blue) on Sunday. Complete meet info can be found in the event page (link below). Final team entries and relay list, as well as a psych sheet are all posted below. Here are the warm-up times - please note that for this meet, different than most other ones we go to in-season, times listed are the times we'd like swimmers to arrive on deck (for relay-only swimmers, the times you should be at Tech is listed for each relay in the updated Relay List linked below):

11-14

:


Prelims: 9:00am (Friday, Saturday, Sunday).

Individual Finalists: 5pm (double check with coach)

10&U

:


Friday (500Free): 5:00pm ;

Saturday & Sunday: 2:00pm

Below you can also find a link to pre-purchase parking online, which usually makes arriving at the meet a little easier. At this time, there is no link with a discount for those going all 3 days, so you might need to purchase each day separately. Finally, for those who can't attend, or with family far away, Finals we be broadcast live every night over the web! You can also find that link below.
Up Next: Ga-Ga Relay Meet Mar 3
Following the 14&U Age Group Champs, the entire team will be back in full training mode to prepare for the end-of-season meets - Senior Sectionals for a few qualifiers, and the Divisional Champs for the entire team! In order to keep our racing skills sharpened through this last training cycle, we'll have a Relay Meet on Saturday, March 3rd. Unfortunately, we learned last week that GAC will not be available, so this year's meet will once again be held at our home pool.
We expect ALL swimmers to attend - you can go ahead and RSVP online using the link below. You can find more info to the page below, but warm-ups will be at 9:00am (older swimmers will have a short practice/longer warm-up 7:30-9:00am, and we should be done by 12noon.
Please note: this is always a great event for our kids, and we love putting it together. With that being said, it takes a lot of work to make sure everyone gets to swim enough times, and all that is made even harder if swimmers don't commit or commit and don't show up. So, please be sure to sign-up on time, and if you do so be sure to attend unless you end up having something contagious on the day of the meet.
Coming up: Divisional Champs Mar 23-25
The Divisional Champs will return to the UGA pool in Athens, March 23-25. This is a 2.5 days meet, with timed finals for all ages on Friday evening, Prelim/Finals on Saturday and Sunday for 11&O, and timed finals for 10&U in the afternoon. This is the last meet of the SCY Season, and our largest TEAM meet of the entire year! It is always a great competition and a fantastic way for our swimmers to cap off their season.
Last year was the first time in quite a while that we were runner-up at this meet, and we're looking forward to a tight battle to repeat or top that! As always, we also count on our parents to help us bring the Spirit Award one more time!
Complete meet info is not yet available, but it shouldn't be any different than in years past. There's a link to the event page below, and everyone can go ahead and sign-up. All swimmers are expected to participate fully!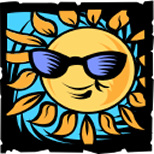 Time To Plan for a Great Summer Season
Long Course season kicks off April 9th, as soon as we come back from Spring Break. The summer months provide a unique opportunity for the young swimmer to train more intensely thanks to a lighter schedule away from the pool. Swimmers who truly commit to the season usually far outpace their teammates whose training is more intermittent. Even though it is shorter (just 11-14 weeks!) this is the season where we see swimmers make the biggest strides each year. This year we are hoping even more of our swimmers and families will take the plunge!
Doing the season right also requires a commitment from the family, including planning extended travel for after the championship meet the swimmer is attending - in such a short season it is important to plan so there are no breaks in training. Some of the most important times to be at practice are late June through July (including the weekend of 4th of July). If you do have to travel, the next best step is to arrange to do the same number of workouts the swimmer would if he/she were home, preferably with a local, competitive USA-S club. And just as important, make sure to attend the appropriate meets, especially an end of season meet that you focus on fully, with no other activities around the same weekend. As always, we're also planning have some fun activities for the season - open water swims, Six Flags, and a few great meets, including a travel meet for Senior and Prep.
With regards to summer league, we expect (and encourage) most of our age group swimmers, in addition to their training at GwinAq, to participate on a summer league team - especially if it's their local team, where they first started swimming! It's a great way to showcase our program, by both swimming to your best ability at all your meets and being great teammates. That mix of character and improved athletic ability should be the best way to help recruit new swimmers to the program! During the summer months, for Blue team we recommend they alternate swimming a day with GwinAq and a day with the summer league team; Gold swimmers should swim at least 3-4 and as often as 6 days weekly with GwinAq and occasionally with their summer league team (they could do both, preferably am and pm, once or twice/week); Prep and Sr swimmers should make all GwinAq workouts and only stop by their summer league teams to help out and communicate with their coach. Talk to your coach early and often to try to make the best of the training time you have!
Some of the most important dates are already listed on the 2017-18 Calendar. We'll post the remaining meets as well as the summer practice schedule soon. You can find the Spring Schedule (which we'll follow between April 16 and May 10) at the bottom of this Newsletter.
TYR Pro-Series Atlanta Ticket Sales
From March 1st-3rd many of the USA-Swimming's top swimmers (as well as some of the best international ones) will be attending the TYR Pro Swim Series at Georgia Tech. This will be a great chance for swimmers to watch some of the best in the sport competing! If you are interested in attending, tickets can be purchased using the link below.
---
School-Year Practice Schedule
Blue Team - Mon, Tue, Thu, Fri 5:30-6:45pm; Sat 9:30-11:00am
Gold Team – Mon-Fri 5:30-7pm; Sat 9:30-11:00am
*Wed will move to 5:15-6:45 starting late October
Prep Team – Mon-Thu 6:15-8:15/45pm ;Fri 6:00-8:15pm; Sat 10:15am-12:30pm
*Wed will move to 6:00-8:15pm starting in late October
Senior Team - Mon-Fri 3:00-6:00pm; Sat 7:30-11:00am
*Mon, Wed 5:00-6:30am for select swimmers
HS Training Group - Mon-Fri 2:45-5:00pm; Sat 12:00noon-2:00pm

Spring Interim Practice Schedule (April 16 - May 10)
Blue Team - Mon, Tue, Thu 5:45-7:15pm; Fri 5:30-7:00pm; Sat 9:30-11am
Gold Team –Mon-Thu 5:45-7:15pm; Fri 5:30-7:00pm; Sat 9:30-11am
Prep Team – Mon-Thu 6:30-8:30/9:00pm; Fri 6:00-8:15pm; Sat 10:15am-12:30pm
Senior Team - Mon-Thu swim 3:30-5:30pm, dryland 2:40pm or 5:40pm; Sat 7:30-11:00am
*Mon, Wed 5-6:30am for select swimmers
HS Training Group - Mon-Fri 2:45-5:00pm; Sat 7:30-11:00am or 10:15am-12:30pm

---
Gwinnett Aquatics