Printable Version
2018 LCM Season Calendar
Click on this link to view the entire LCM season Calendar

TU Event Page

Use this link for more info on each event and to sign-up for them. Already includes the LCM Season Meets!
Apr 16-May 10- Spring Interim Practice Schedule (posted below)
Apr 21 - Georgia Swimming LSC Meetings & HOD
Apr 22 - Ga Swimming Peach Awards
Apr 28-29 - LC Kickoff @ Ga Tech
May 5- Team Banquet, 6pm (Parkview HS)
May 8- College Night, 6:15pm
May 19-20- Spring Splash @ Dynamo
May 24- Summer Schedule Starts
Jun 1-3- Dixie Classic @ Dynamo
Carol Tate Invite @ Emory
Jun 9- Death Valley Open Water @ Clemson, NC
---
Education Column
We come across a few great articles on a variety of topics - parenting, nutrition, mental training, sports parenting, drills, etc. In this column we'll share the best one every week. Be sure to check it out and click the link to read the entire article!
Modeling to Build Safety
"Over Christmas I was hanging out with my 6 yr old friend, Layton.
After a few minutes of scrolling through my Instagram feed, looking at all of the awesome things people were learning in our Anti-Talent Show, Layton decided he wanted in on the action.
I showed him the classic coin snatching trick…
He ran into his room, gave his piggy bank a few shakes, and returned with a shiny quarter – ready to learn.
Attempt #1 – quarter slid off his elbow before the arm swing.
Attempt #2 – quarter stayed on his elbow but flew across the room during arm swing." click here to read the whole article.
---
April Payments Past Due
April fees are now past due. Payments are due on the 1st and are considered late after the 5th. Please note that if a payment is not received by the 10th, a $25 late fee is added. You can mail a check, pay in person at the pool, or log in to your on-line account and pay by credit card or e-check. You can also pay on our Square On-line Store using the link below.
Mail payments to:
Gwinnett Aquatics
4691 Bryson Cove
Lilburn GA 30047
(Or put in coach Hugh's mailbox at the pool).
---
GwinAq's Affiliate
SwimOutlet.com
Gwinnett Aquatics is an affiliate of SwimOutlet.com. Use the link below to search SwimOutlet for some of the best prices on swim equipment. Be sure to use this link and your purchase will also support our program.
---
2017 LCM Recap
Our last LCM season was certainly one to remember! We topped our best-ever score in USA-Swimming's Virtual Club Championships (VCC), and that was thanks to our swimmers' individual accomplishments - we had our largest numbers of swimmers with A times or higher (43!). But the best display of our improvement came in the whooping 10 new club relay records set through the season! Check the links below for more info on such a great season!
2017 LCM Standard Breakers
2017 LCM IMX Scores
2017 LCM Fast 5
GwinAq LCM All-Time Top 10
2017 Spring/Summer Attendance Award
2017 LCM VCC Score Summary
2016-17 SCY Recap
What a great SCY season! We scored the most amount of points ever in USA-Swimming's Virtual Club Championships (VCC), and to do that there were plenty of individual accomplishments - be sure to check them all on the links below:
2016-17 SCY Standard Breakers
2016-17 SCY IMX Scores
2016-17 SCY Fast 5
GwinAq SCY All-Time Top 10
2016 Fall Attendance Award
2016-17 Winter Attendance Award
---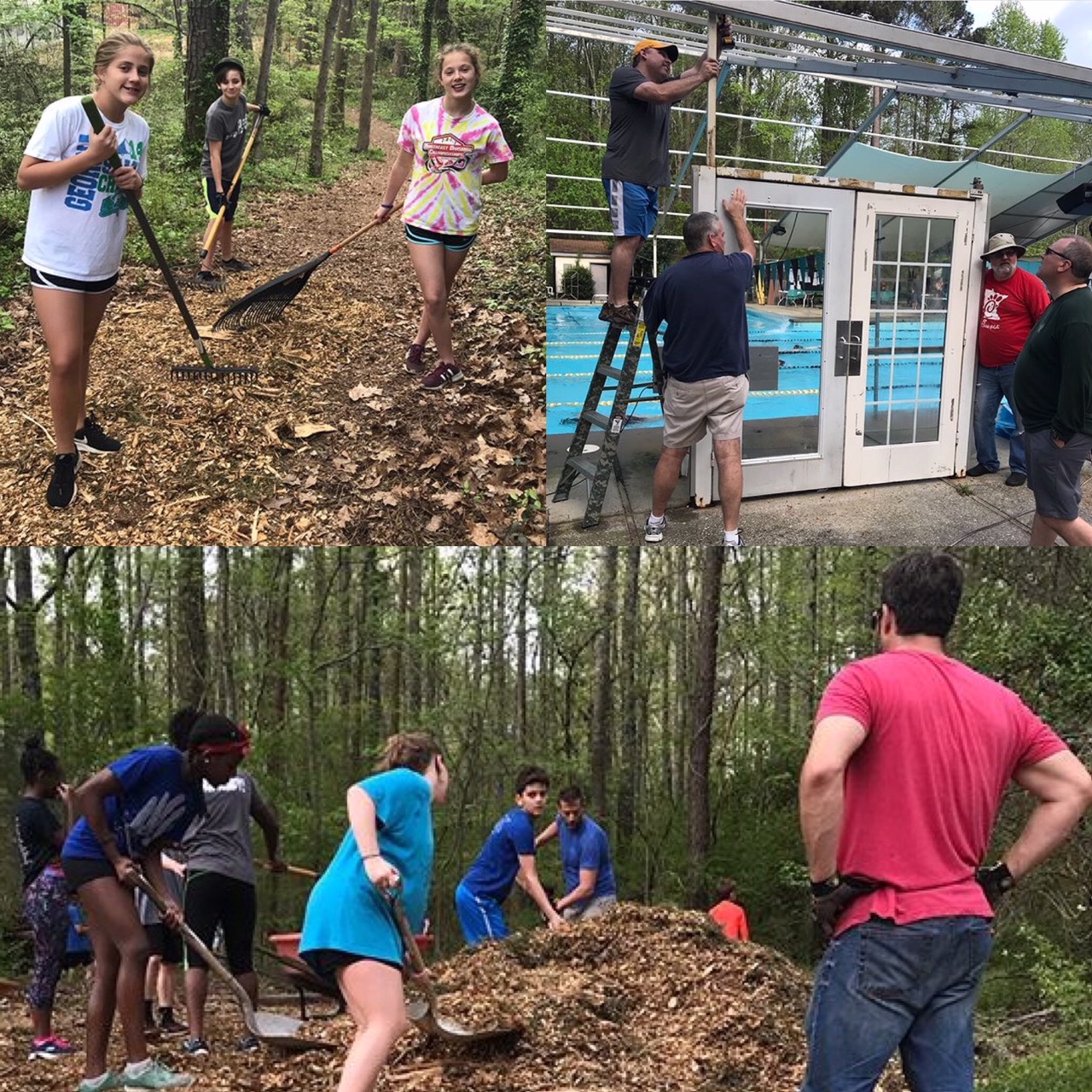 Another Workday in the Books!
- And Training Full Throttle!
Thanks to everyone who came out to our workday last Saturday! The turnout was a little lower than in years past, but those who came put in such an outstanding effort that we still managed to get all the main tasks done early! If you were not able to come, there are still a few tasks we could use your help with, so please contact coach Hugh (hugh@gwinnettaquatics.com) in order to see when you could come in and help.
In the water, practices are already at full pace, as we prepare to make the best of the LC Season! Our first long course swim meet is now just over a week away, and this season really goes by quickly after that. Each year a few swimmers hit a little bump with their training towards the end of the school year. Striking the right balance between training and academics is always challenging and when testing time, as well as other extra-curricular activities, comes around that balance can be even more difficult to find.
The main thing we'd like everyone to keep in mind is that we hope each swimmer's participation at Gwinnett Aquatics is an integral part of a healthy lifestyle that will lead each athlete to peak performance in the pool AND in the classroom, and also later in life! Our schedule should allow enough time for swimmers to do their school work, eat a healthy dinner (and breakfast) and get 8-9 hours of sleep each night. We also hope our athletes are planning and keeping ahead of their studies, rather than cramming the night before a test. As long as those are true, most swimmers should be able to maintain their normal training schedule and excel on any testing that comes up. More importantly, these swimmers are learning how to take testing in stride with lower stress levels.
We also have a few events taking place out of the water: this weekend some of our athletes and coaches will be attending the Georgia Swimming LSC Spring Meetings - with some important legislative items being voted on, and where we'll determine next SCY Season's meet schedule. Our team banquet is only a few weekends away (and you can go ahead and reply to the e-vite), and we'll also have our annual College Night talk in early May. As you can see, even though we just came back from the break, we're already at full steam!
Georgia Swimming Gold Peach Awards This Saturday, Apr 22
This year's Georgia Swimming Golden Peach Awards (formerly the All-Star Banquet) will be on Sunday, April 22nd, at The Garage at Tech Square. More info on the event can be found here. This year's speakers will be National Team Members Michael Chadwick and Andrew Wilson. Tickets are still available on the link below - they are $30/person, and we'll credit $15 to the activity account of all of last season's (2016-17SCY & 2017LCM) AAA (and higher) swimmers who attend.
First Meet Will be SCAT LC Kickoff Apr 28-29
- Remember to double-check your entries!
The first meet we'll attend for the 2018 LCM season will be the Long Course Kick-Off at Ga Tech, April 28-29. This meet is intended for all Sr, HSTG, and Prep swimmers as well as Gold swimmers who are ready to swim 100s long course in all strokes.
On both days, 13&O swimmers swim in the morning, while 12&U swim be in the afternoon session. Replies are past due, and our entries are posted below. As always, please double check your entries for possible mistakes! Complete meet info is available in the event page.
SCY Season Recap
During the break, results from the Divisional Champs were entered into the USA-Swimming times database, so we have our final IMX Scores and VCC Score for the season. Marlowe Misner broke the club's IMX Record for the 11-12 Girls! We had 43 swimmers score over 1000 points, 12 of which broke the 3000 points barrier!
In the Virtual Club Championships, we were less than 1.000 points off of last year's score (which was our best ever), and broke 110.000 points for the second time ever! That score kept us in the top-10 teams in the LSC, and in the top 500 clubs in the country (our of over 3000). Thank you and congratulations to all swimmers, parents and coaches for all being a part of another great season! You can check our Season Fast 5 (with the top 5 swims for each event and Age Group), our All-Time Top 10 for each event, the complete IMX Scores, as well as the detailed VCC Scores, in the links below. And now let's get to work with our sights set on an even more successful LCM Season!
Coming Up: Spring Splash May 19-20
Following the LC Kickoff next weekend, we'll have a few more weeks prior to the next LC meet: Dynamo's Spring Splash. This meet is intended for ALL swimmers. If you have any questions regarding your participation please contact your coach right away.
Complete meet info is now available in the event page (link below). Replies for this meet are due next Thursday, April 26th! Many of the summer meets fill up early, so we need to send our entries well in advance to guarantee our spot, so please go ahead and RSVP right away!
LCM Season Overview
As we mentioned in the past, the summer months provide a unique opportunity young swimmers to train more intensely, with fewer commitments away from the pool. Those who truly commit to the season usually far outpace their teammates whose training is more intermittent. Even though it is shorter (just 11-14 weeks!) this is the season where we see swimmers make the biggest strides each year!
Doing the season right also requires a commitment from the family, including planning extended travel for after the championship meet the swimmer is attending - in such a short season it is important to plan so there are no breaks in training. Some of the most important times to be at practice are late June through July (including the weekend of 4th of July). If you do have to travel, the next best option is to arrange to do the same number of workouts the swimmer would if he/she were home, preferably with a local, competitive USA-S club. And just as important, make sure to attend all the appropriate meets, especially an end of season meet to focus on fully, with no other activities around the same weekend. Our meet schedule has been posted for a few weeks now, but we had to make 2 changes to it recently:
Jun 22-24 - Rays' Stu Hixon Invite

: our original plan was to attend the Summer Sizzler at Tech the weekend before, but that meet has already filled up! So, all swimmers not going to Sarasota should attend this meet instead. This is a full 3-day meet, with Prelims/Finals for 11-&O (13&O swim Prelims in the AM; 11-12s Prelims are in the afternoon). 10&U will have timed finals in the afternoon. We're sorry for having to make this change, especially as this meet is also on a different weekend than we originally planned, but again ALL swimmers not going to Sarasota should attend this meet.

July 6-8 - LC Ga Open

: Dynamo has moved their end-of-season meet to the following weekend, which conflicts with GCSL Champs. So, for this one we'll be able to keep our original intended weekend, but will attend the SCAT LC Open at Tech instead. This is a full 3-day meet. 11&O will have Prelims/Finals, with Prelims in the morning for everyone; 10&U will have timed finals in the afternoon. This is the recommended end-of-season meet for all swimmers who do not have State cuts. Swimmers with State cuts will likely also be asked to swim, so be sure to work that out with your coach.
Most swimmers will be done with their LCM season in early-to-mid July, so scheduling a vacation for after your main target meet (and thus maintaining a consistent training schedule until then) would be ideal - everyone should have at least a couple weeks off from swimming before school gets back. The full summer schedule (with the exception of those 2 recent changes) is posted below. All the meets are also already on the Team Unify Event Page, meaning you can go ahead and commit to them - if something comes up between now and then, you can still change your reply. As always, if you have any questions, be sure to contact your coach.

GwinAq Team Banquet May 5
Our Team Banquet this year will be on Saturday, May 5, starting at 6:00 pm at the Parkview HS Cafeteria. This is a great event each year where we look back on the previous 2 seasons (in this case, the 2017LCM and the 2017-18SCY), recognize the swimmers' hard work and honor the graduating seniors.
It's always great to see our swimmers (dressed up for once!) and families all getting together to recognize and remember the previous year. Oh and there's food!
The e-vite is now available (please, be sure to respond whether or not you are attending). Families with last names starting with A-P bring a dessert, Q-Z a side dish. Cost will be $9/person charged to your activity account.
Calling All Scholars: Ga-Ga Honor Roll
It's time to recognize all our scholars again! If you had all As and Bs on your last report card please reply to this e-mail so you can be added to the Ga-Ga Honor Roll published below!
Delaney Benford
Bennett Culbertson
Carter Dehnke
Britt Heimel
Owen Heimel
Jaden Henry
Hannah Claire Jowers

Brielle Mitchell
Danielle Mitchell
Darnell Mitchell
Janelle Mitchell
Rielle Mitchell
Addison Shaffer

Graham Simmon
Sydney Spruiell
Riley Spruiell
Blake Wilson
Zoe Wilson
Freddy Xu
---
School-Year Practice Schedule
Blue Team - Mon, Tue, Thu, Fri 5:30-6:45pm; Sat 9:30-11:00am
Gold Team – Mon-Fri 5:30-7pm; Sat 9:30-11:00am
*Wed will move to 5:15-6:45 starting late October
Prep Team – Mon-Thu 6:15-8:15/45pm ;Fri 6:00-8:15pm; Sat 10:15am-12:30pm
*Wed will move to 6:00-8:15pm starting in late October
Senior Team - Mon-Fri 3:00-6:00pm; Sat 7:30-11:00am
*Mon, Wed 5:00-6:30am for select swimmers
HS Training Group - Mon-Fri 2:45-5:00pm; Sat 12:00noon-2:00pm

Spring Interim Practice Schedule (April 16 - May 10)
Blue Team - Mon, Tue, Thu 5:45-7:15pm; Fri 5:30-7:00pm; Sat 9:30-11am
Gold Team –Mon-Thu 5:45-7:15pm; Fri 5:30-7:00pm; Sat 9:30-11am
Prep Team – Mon-Thu 6:30-8:30/9:00pm; Fri 6:00-8:15pm; Sat 10:15am-12:30pm
Senior Team - Mon-Thu swim 3:30-5:30pm, dryland 2:40pm or 5:40pm; Sat 7:30-11:00am
*Mon, Wed 5-6:30am for select swimmers
HS Training Group - Mon-Fri 2:45-5:00pm; Sat 7:30-11:00am or 10:15am-12:30pm

---
Gwinnett Aquatics