Printable Version
2017 LC Calendar
You can view the entire calendar for the LCM season by clicking the link above

TU Event Page

Use this link for more info on each event and to sign-up for them.
July 20 - Gold State Swimmers 9:30-11:00am (note change)
July 20-23 - Georgia 14&U Age-Group State Champs (hosted by us!)
July 25 - Fun Practices!
Prep 9:00am-11:00am
Blue/Gold 5:30pm-7:00pm
July 28-30 - Georgia Senior State Champs
Aug 1-5 - Southern Zone Championships @ Tupelo, MS
Aug 3-6 - Futures Championships @ Nashville, TN
Aug 8-12 - Jr Nationals @ East Meadow, NY
Aug 14 - 2017-18 Pre-Season Starts!
Sep 5 - 2017-18 Season Starts!
---
Education Column
We come across a few great articles on a variety of topics - parenting, nutrition, mental training, sports parenting, drills, etc. In this column we'll share the best one every week. Be sure to check it out and click the link to read the entire article!
Sleep is Not for the Weak, Especially for Swimmers
"We sleep because we are tired, but do we really know the benefits of sleep besides reducing sleepiness?
...A study conducted on swimmers from the Stanford Men's and Women's Swimming teams found favorable effects of extended sleep on their performance in the pool. Following the 6-7 week sleep extension period, the study found that the extended sleep period significantly improved the swimmers' athletic performance. These improvements included faster 15m sprint, reaction time, and turn time..." click here to read the full article
---
July Payments Past Due
July fees are now past due. Most families do not have monthly dues but do have an activity fee balance. Payments are due on the 1st and are considered late after the 5th. Please note that if a payment is not received by the 10th, a $25 late fee is added. You can mail a check, pay in person at the pool, or log in to your on-line account and pay by credit card or e-check. You can also pay on our Square On-line Store using the link below.
Mail payments to:
Gwinnett Aquatics
4691 Bryson Cove
Lilburn GA 30047
(Or put in coach Hugh's mailbox at the pool).
---
GwinAq's Affiliate
SwimOutlet.com
Gwinnett Aquatics is an affiliate of SwimOutlet.com. Use the link below to search SwimOutlet for some of the best prices on swim equipment. Be sure to use this link and your purchase will also support our program.
---
2016-17 SCY Recap
What a great SCY season! We scored the most amount of points ever in USA-Swimming's Virtual Club Championships (VCC), and to do that there were plenty of individual accomplishments - be sure to check them all on the links below:
2016-17 SCY Standard Breakers
2016-17 SCY IMX Scores
2016-17 SCY Fast 5
GwinAq SCY All-Time Top 10
2016 Fall Attendance Award
2016-17 Winter Attendance Award
2016 Long Course Recap
Our last LCM Season was one to remember! Check the links below to see all the individual accomplishments that helped make it one of the best LC seasons we ever had:
2016 LCM Standard Breakers
2016 LCM IMX Scores
2016 LCM Fast 5
GwinAq LCM All-time Top 10
2016 Spring/Summer Attendance Awards
---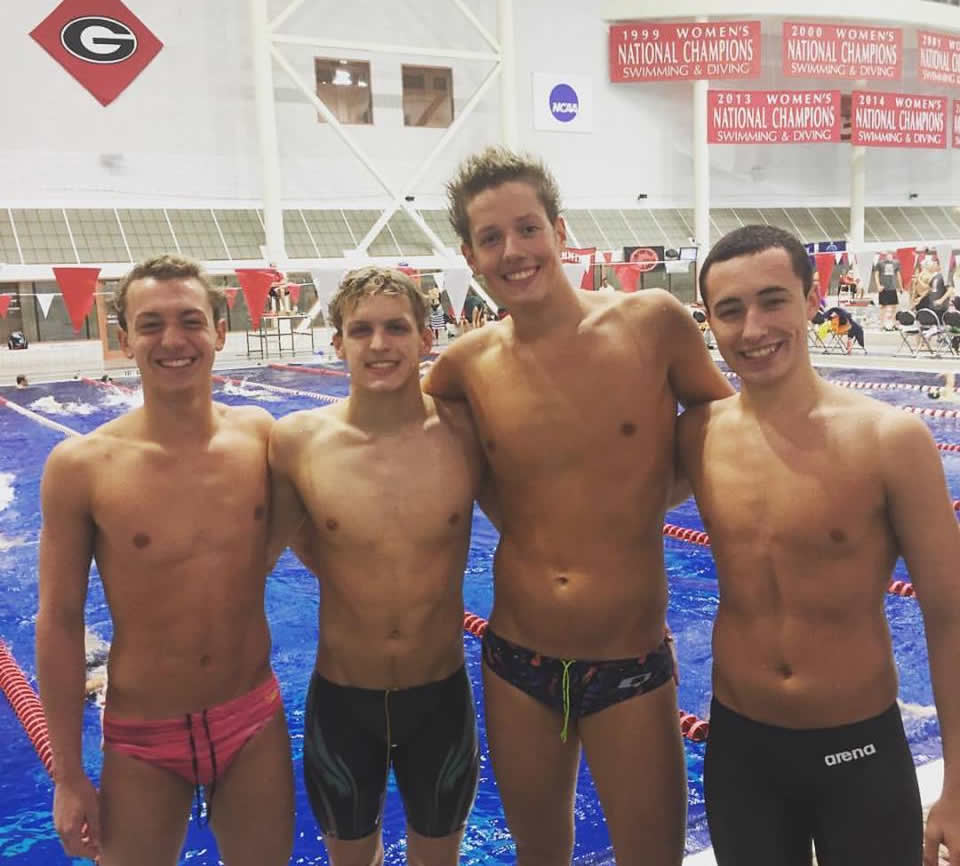 Championship Meets, Round Two!
- Norcini, Fountain, Sr Boys Break Six Team Records
Ga-Ga swimmers continued their run of championship meets last weekend, with squads competing at both the Columbus Hurricane Invite and the Senior Sectional Champs in Athens. Over 25 swimmers competed in Columbus. Hanna Burke, Jarod Disher, Wesley Carter and Nolan Patterson all won events and Patterson and Desymber Richie picked up State Cuts - first one of the season for Richie, first for his new age group for Patterson! Olivia Yeiser got her first ever B times. Yeiser, as well as Alyssa McDuffie and Caitlyn Petmecky were 100% best times!
Meanwhile at Senior Sectionals some of our senior swimmers were putting together the best Senior Long Course Champs Meet we've ever had. As this meet is dominated by college swimmers, we usually don't take many swimmers. But this year we had eight swimmers go, and had multiple finalists every night. Alex Norcini and Josh Fountain both picked up their first AAAA times and combined for three team records! They, together with Griffin Hammett, Daniel Johnson and Drew Grier also broke all three Senior Relay records! Alex's new times also moved him back into the top 20 in the country in the IMX rankings. Fountain and Sarah Jahns scored individually in the distance events, with Jahns missing a top-8 finish by .05 in the 1500!!! Grier and Johnson, along with Charlie Fountain, were all 100% best times.
As always you can check out our team results and current Standard Breakers list on the links below. And now it's time for our 14&U State swimmers to shine - along with our volunteers! More info for the 14&U State Champs is below, and we're looking forward to hosting a great meet, as well as putting together some fast swims!
Following this weekend, we hope to see a good portion of all our age groupers again during the Fun Practices next Tuesday (more info below), as we recap the season and send everyone on a break. Well, except for our Seniors, who will then be gearing up for their State Champs, Zones, and Futures! That's right, there's still a LOT more action before the season is actually over; more info on all those events below, so be sure to read on! And last, but certainly not least, remember that a few groups for next year are filling up, so if you haven't yet registered be sure to do so ASAP in order to guarantee your spot (more info on that below as well)!
Hurricane Champs GwinAq Results | Senior Sectionals GwinAq Results
Standard Breakers

14&U State Champs This Weekend, July 20-23
The 14&U Age Group State Champs are this weekend, July 20th-23rd, at Georgia Tech. This is a 3.5 day Prelim/Final meet, and the most competitive meet our 14&U will attend all season. Warm-up times for individual qualifiers are listed below. Relay-only swimmers check what time you should be at Tech on the Relay list linked to below (listed for each relay). After last weekend's meet, we have just under 20 individual qualifiers, which matches our numbers for last year, but with about 10% more individual entries. Final team entries, as well as the psych sheet, are posted below.
11-14

Thursday (800/1500): 3:00pm
Friday (Prelims): 7:15am
Sat-Sun (Prelims): 7:45am
Fri-Sat-Sun (Finals): 5:00pm (double check with coach)


10&U

Friday/Saturday: 1:00pm
Sunday: 1:30pm

Wear either the Winter Training shirt (dark green) or last year's Divisionals shirt (white) on Thursday, last year's team shirt (teal) on Friday, this year's team shirt (white) on Saturday, and this year's Divisionals shirt (blue) on Sunday - as always, if you don't have one of those, wear another team shirt or a shirt the same color.
Below there's a link for purchasing your parking tickets in advance (especially worth it if you'll be there all weekend). Also, finals will be webcast live (link below ) - a great link to send to friends and relatives who live far away! We are looking forward to a great weekend of racing, and looking to top last year's team scores!
Georgia 14&U State Champs Event Page | GwinAq Entries | 11-14 GwinAq Relays
Psych Sheet
Online Parking | Live Streaming
Volunteer Info for This Weekend
Thank you to all the families who have volunteered to work our biggest fundraiser of the year, the Age Group Long Course State! We are excited to show off our considerable talent and our gracious hospitality by hosting the most important meet of the season for our age group swimmers. This is really an opportunity to showcase our team!
There are still a lot of slots open, and it seems that for the first time ever we'll have to ask for volunteers during the meet. If you missed the deadline to sign-up but would like to help, please contact coach Hugh (hugh@gwinnettaquatics.com) ASAP. For those who are signed up, please be sure to arrive on time (listed on the sign-up page)! Also, remember that you will have to secure parking on your own while you are at Tech - due to limited parking passes, we will not be able to give passes to volunteers. There is a weekend pass available on-line (link below). Looking forward to a great weekend!
Blue/Gold/Prep Fun Practices Tuesday, Jul 25
Following this weekend's 14&U State Champs, we'll take Monday off, and then have our Fun Practices for Blue/Gold and Prep on Tuesday, July 25th (times are listed on the column to the left). ALL swimmers are welcome! This is always a great chance for us to wrap-up the season with the swimmers, hand out some of the hardware collected over the last few weekends, and have some fun and games in the pool. Hope you can make it!

2017-18 Registration Update - Groups Filling Up!
Registration for 2017-18 is now open to everyone! Gold team is already on a waiting list, and there are now less than 5 spots left in both Prep and Blue! After groups are full, you will be put on a waitlist and we can NOT guarantee your spot on the team, so if you haven't done so be sure to register right away!
The registration process is simple and takes only a few minutes. You will be requested to pay the $115 registration fee before completing it. Returning swim team members need to have their accounts current before they register. If having your account current and covering the registration fee will be a financial difficulty, contact Coach Hugh right away to make other arrangements. You should sign up for the same group you are currently in unless you received a move-up letter. If you are not sure about your group contact Coach Hugh (link above).
Additionally, remember this is also the best time to help us recruit new members to the team! You can help by getting our brochure (link below, and some copies available at the pool) into the hands of any potential families. We are currently especially thin on the boys' side, so all the help there would be appreciated. But mostly, we are looking for anyone with a passion for swimming and who's ready to learn and improve through consistent hard and smart work. So, anyone willing to Pursue Excellence Every Day!
Meal Train for Coach Andrea
We're happy to report that Coach Andrea seems to be recovering well from her treatment! She's back home, but not quite back to normal activities in a while, so the meal train set up for her has been expanded until mid-August. Thank you to everyone who already brought a meal or a gift card! For those who would like to help more details on are available in the link below.
Up Next: Senior State Champs July 28-30
The Senior State Champs this year will return to the UGA pool in Athens. This will be the main end of season meet for swimmers with 3 or more cuts. Those 13-14 swimmers who qualify and are available should also plan on attending this meet - that serves as a good chance to start getting used to racing the "big dogs". Additionally, some non-qualifiers might be included in relays as well. Team entries (including relays) are posted below. - remember to always double check your entries for possible mistakes!
Pre-season Starts Aug 14!
Following the Fun Practices for Blue/Gold and Prep, those groups will be on a break until the pre-season. Senior swimmers will all continue to train through the end of July and start their break then (except for those going to Zones and Futures Champs). We hope everyone takes advantage of these 2-3 weeks to recharge their batteries and come back ready to do some more and better training next season! At the same time, remember that, while a break from structured training after an entire season is advisable, that shouldn't mean being a couch potato! Be sure to stay active during that time - go play outside, bike, run, etc. Those who do always come back in a much better spot than those who don't!
Our pre-season starts during on the 2nd week of school, on August 14, and that will run through the end of that month. Senior/HSTG and Prep will run Monday - Thursday 3:30-5:45pm (Sr/HSTG) and 6-7:45 (Prep); Blue and Gold will run on Mondays, Tuesdays, and Thursdays 5:15-6:30pm. All groups will have a mix of play for dryland, some introduction to swimming skills (and some training for the older groups), and plenty of water polo!
During the last week of August, most of our coaches will be heading to the American Swim Coaches Association (ASCA) World Clinic, so we'll likely have to modify those schedules some, and will not have any groups on Wednesday. After that, we'll take off labor day weekend and start regular practices on September 5th!
---
2017 Summer Practice Schedule
School-Year Practice Schedule
Blue Team - M, T, Th, Fr 5:30-6:45pm; Sat 9:30-11am
(note: Blue will only be offered T, Th and Sat between now and May 25th)
Gold Team –Mon-Fri 5:30-7pm; Sat 9:30-11am
*Wed will move to 5:15-6:45 starting late October
Prep Team – M-Th 6:15-8:15/45pm; F 6-8:15pm; Sat 7:30-11am/10:15am-12:30pm
*Wed will move to 6:00-8:15pm starting in late October; 6:30-8am may be offered starting in late October.
Senior Team - Mon, Wed, Fri 3-6pm; Tue, Thu 3-6:15pm; Sat 7:30-11am
*Mon, Wed 5-6:30am for select swimmers
HS Training Group - Mon-Fri 2:45-5:00pm; Sat 12noon-2:00pm


---
Gwinnett Aquatics