Printable Version
2017-18 Season Calendar
You can view the entire calendar for the next season by clicking the link above

TU Event Page

Use this link for more info on each event and to sign-up for them. You can go ahead and sign-up for all the meets between now and December! If anything comes up you can change your reply anytime prior to the deadline.
Nov 18 - Gold (only 11&O swimmers) 9:00-10:30am (note change);
Prep/HSTG 9:00-11:00am (note changes);
NO Sr/HSTG/Blue practices

Nov 17-19 - Woodie B. Invite @ Dynamo Chamblee, Ga
Nov 20-24 - Thanksgiving Practice Schedule
Nov 29-Dec 9 - Swim-a-Thon (more info below)
Dec 8-10 - Senior State Champs @ GA Tech
Dec 15-17 - Lanier Winter Invite @ Gainesville, Ga
Dec 23-Jan 3 - Winter Break Training Schedule
---
Education Column
We come across a few great articles on a variety of topics - parenting, nutrition, mental training, sports parenting, drills, etc. In this column we'll share the best one every week. Be sure to check it out and click the link to read the entire article!
6 Food Rules Young Athletes Should Follow
"Young athletes face distractions that can keep them from eating properly. From school and homework to training and competition, they don't always pay attention to how they fuel their bodies or take the time to understand the role nutrition plays in supporting their training and goals. Heather Mangieri, a national media spokesperson for the Academy of Nutrition and Dietetics, says there are six food rules that athletes, coaches and families should employ to help bring about that understanding." click here to watch the video.
---
Nov Payments Past Due
November fees are now past due. Payments are due on the 1st and are considered late after the 5th. Please note that if a payment is not received by the 10th, a $25 late fee is added. You can mail a check, pay in person at the pool, or log in to your on-line account and pay by credit card or e-check. You can also pay on our Square On-line Store using the link below.
Mail payments to:
Gwinnett Aquatics
4691 Bryson Cove
Lilburn GA 30047
(Or put in coach Hugh's mailbox at the pool).
---
GwinAq's Affiliate
SwimOutlet.com
Gwinnett Aquatics is an affiliate of SwimOutlet.com. Use the link below to search SwimOutlet for some of the best prices on swim equipment. Be sure to use this link and your purchase will also support our program.
---
2017 LCM Recap
Our last LCM season was certainly one to remember! We topped our best-ever score in USA-Swimming's Virtual Club Championships (VCC), and that was thanks to our swimmers' individual accomplishments - we had our largest numbers of swimmers with A times or higher (43!). But the best display of our improvement came in the whooping 10 new club relay records set through the season! Check the links below for more info on such a great season!
2017 LCM Standard Breakers
2017 LCM IMX Scores
2017 LCM Fast 5
GwinAq LCM All-Time Top 10
2017 Spring/Summer Attendance Award
2017 LCM VCC Score Summary
2016-17 SCY Recap
What a great SCY season! We scored the most amount of points ever in USA-Swimming's Virtual Club Championships (VCC), and to do that there were plenty of individual accomplishments - be sure to check them all on the links below:
2016-17 SCY Standard Breakers
2016-17 SCY IMX Scores
2016-17 SCY Fast 5
GwinAq SCY All-Time Top 10
2016 Fall Attendance Award
2016-17 Winter Attendance Award
---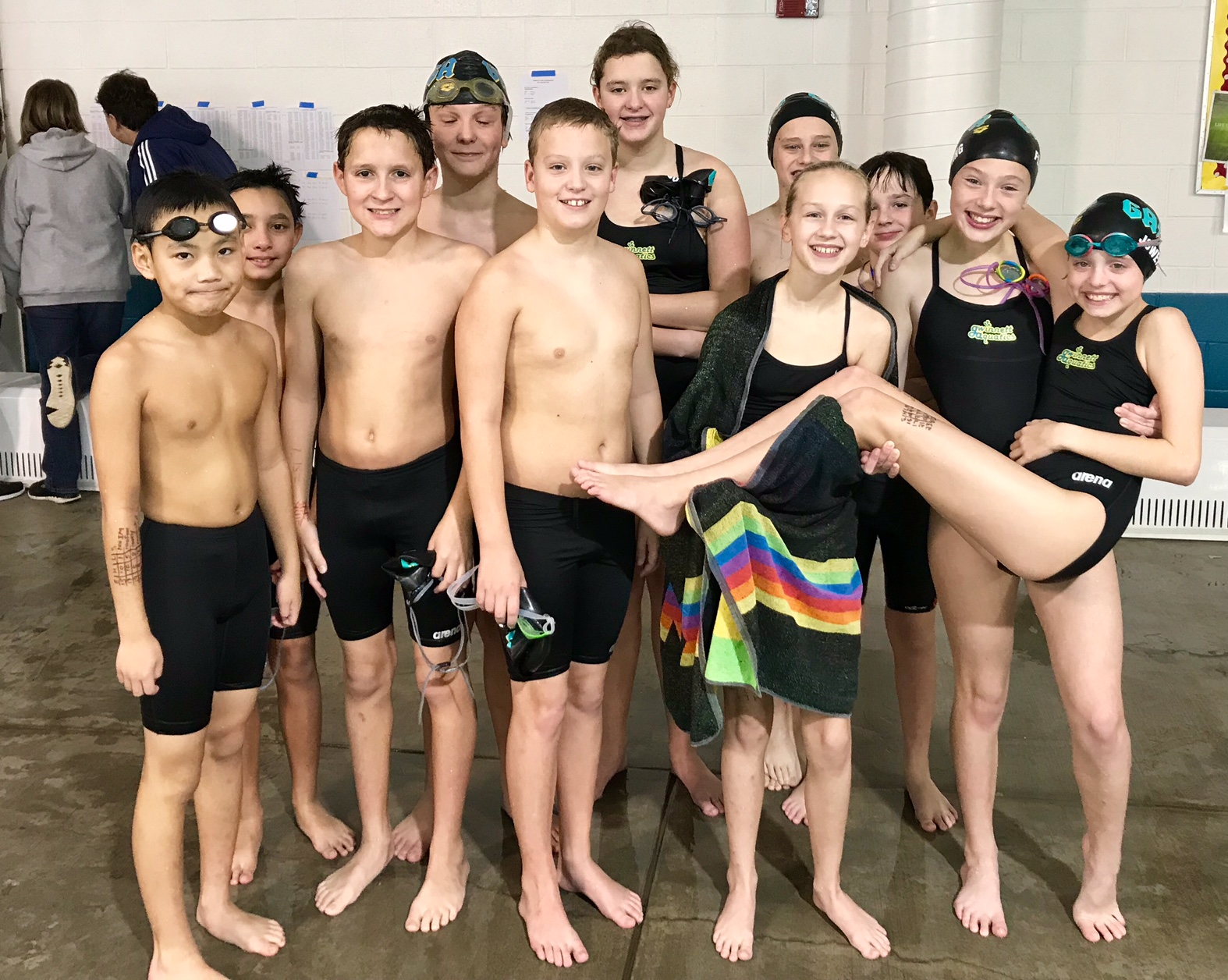 Ga-Ga Swimmers Hit First Invite at IMX
About 40 of our swimmers swam their first invitational of the season at the IMX Invite in Marietta last weekend. Hannah Claire Jowers won multiple events, while Kate Johnson and Maggie Nguyen won the 100 and 400 IMs respectively! Juliana Carey, Grace Fleming, Drew Grier, Caitlyn Petmecky, Brandon Shepard and Alex Zhong all placed!
We've already had so many swimmers pick up USA-S standards that there were relatively few new ones: Adam Dockstader and David Duong got their first B times; and Kate Johnson picked up her first state cut! Dockstader, as well as Delaney Benford were 100% best times! As always you can check out full meet results, team results, and our current Standard Breakers list on the links below.
This weekend, we'll have over 70 swimmers attend their first multi-day invitational of the season. It will also be the first Prelim/Final meet of the season for our 11&O swimmers, so we're looking forward to a great weekend of racing! Please note that, since all 10&U are supposed to be at the meet, this Saturday's workout is only for 11&O Gold and Prep/HSTG swimmers (everyone that was supposed to attend IMX on both days). There will not be a workout for Blue or Senior. Check the column to the left for the correct time.
Out of the water, Swim-a-Thon fundraising is now in full swing: be sure to check out that article below, and if you're doing paper pledges remember we'll have a check-in at the pool tomorrow - everyone who's got pledges to that point will be entered in a raffle for an iTunes gift card! Additionally, Thanksgiving week is next week already! Remember we'll have a different training schedule during that week (link on the column to the left and on the article). There's also more info on that in an article below, and if you're traveling your coach should know by now! Finally, deadline for replying to the December meets is also tomorrow! As you can tell by now, there's plenty of reason to read on, stay up to date, and take action where needed!
Dynamo Woodie B Malone This Weekend, Nov 17-19
As mentioned above, we'll have over 70 swimmers attend their first multi-day invite of the season this weekend at Dynamo's Woodie B. Malone. This meet is at Dynamo Chamblee (3119 Shallowford Rd NE, Chamblee, GA 30341). Warm-ups times are:
Friday: 3:30pm


Saturday and Sunday

11&O swimmers: 7:30am

10&U swimmers:1:30pm
Remember to always plan to arrive at least 15min early for warm-ups! Finals warm-up are scheduled for 5:30pm, but always double check with your coach what time you should come back for finals. Unless previously worked with their coaches all 11&O swimmers will be expected to be available for Finals!
Wear last year's Divisional shirt (blue) on Friday, this year's team shirt (gray) on Saturday, and last year's team shirt (white) on Sunday - if you don't have one of those shirts wear either another team shirt or a shirt the same color. You can find the complete meet info in the event page (link below); team entries and a psych sheet are posted below.
This will be a fairly large meet, so they will be swimming the 11&O Friday and Prelims sessions in two pools (boys will be on the outside pool), and will have off site parking - we don't have all the info on that yet, so we'll send a separate e-mail when we get it, and will also post it on the online version of the newsletter. They will also have signs on how to use the deck space, so please look for and follow those.
Finally, we also must remind everyone that, although indoors, Dynamo's pool area can be cold for swimmers between events, especially in the morning. Being cold tightens muscles and makes swimming fast a much more difficult task, so be sure to bring (and wear) parkas and shoes (preferably with dry socks), and at least one extra towel. Hats and gloves are encouraged, too, as well as long sleeve shirts, hoodies, etc!

2017 Swim-A-Thon Update
Thanks again to everyone who already set up their online donation SAT account! With one extra week for fundraising, among those who have started we have quite a few who already raised a ton: Sarah Heppe, with a whooping $400.00 is our new top fundraiser, and Fredie Xu, Adam Dockstader, Alana Dutkin, and Nolan and Ellis Patterson have all raised $200.00 or more! Currently our group with the most amount of pledges is Prep, though taking the $/swimmer ratio into consideration both Blue and Senior might be ahead in the race - remember the group that raises the most per swimmer will win a pizza party!
If you haven't set-up your online account yet, it is real easy to get started, and as you can see above everyone who's done so is averaging a good return in pledges, so be sure to get started soon! For those who are planning on doing paper pledges, they were finally handed out last week. Remember we'll have a check in tomorrow, Thursday, November 16th, so be sure to mark that in you calendar! After that, everyone with pledges will be entered on our first raffle for an iTunes gift card!
If you are still not sure about what the Swim-A-Thon is, there's an overview posted at the bottom of this article - and if you have any questions, please contact Andrea Diehl (andreadiehl@comcast.net). At the bottom of this article there's also a Gwinnett Aquatics gift receipt you can hand out to those (individuals or businesses) who make donations - remember, we are a 501(c).3 organization, so every donation is tax deductible! There's also a link to our Team Unify's Home Page, where we can see the progress of our donations - let's all pitch in and help get our goal!
The schedule for the swimming portion of the Swim-A-Thon is below. Note there will be quite a few changes to the practice schedule that week! If you have any questions, or especially conflicts on the day your child is supposed to swim, please contact a coach ASAP. Although we do have a make-up scheduled, it is our experience that kids tend to perform much better, and have a better time doing so, when they attend the regular Swim-a-Thon for their group.
Wednesday, November 29th

:

Senior S-A-T 4:00pm-6:00pm (counters arrive @ 4:30pm)


Friday, December 1st

:


Gold S-A-T 5:30pm-7:30pm (note swimmers will be getting in at 5:30pm!)


Tuesday, December 5th

:

Blue S-A-T 5:30pm-7:00pm (note swimmers will be getting in at 5:30pm!)

Wednesday, December 6th

:

HSTG S-A-T 2:45pm-4:30pm (counters arrive @ 3:20pm)


Thursday, December 7th

:


Saturday, December 9th

:


S-A-T make-up (all groups) 10:00am-12:00pm

Again, for those relying on paper pledges our next check-in is tomorrow, Thursday, November 17. After that we'll only have one more - on Monday, November 27 (please note we changed this date). Those who choose to put their pledges online won't need to worry about checking-in at the pool. Every swimmer with a pledge will be entered into a raffle to win a prize. Each individual swimmer who reaches $150 will earn a limited edition GA-GA Sweatshirt. Families who reach the family goal of $250 will be able to order additional GA-GA Sweatshirts. These will not be available for sale elsewhere!

Up Next: Senior State Dec 8-10
SCY Senior State Champs will once again be held at the Ga Tech pool. Swimmers with 3 or more Senior State Cuts should plan on attending this meet fully. We might also bring in some other swimmers for relays.
This is a full, 3-day, Prelim/Final meet. Complete meet info is available on the event page (link below). The deadline for RSVPs online is tomorrow, Thursday, November 16th.

Coming Up: Lanier Winter Invite Dec 17-19
Following this weekend's Woodie B Invite, we'll have a couple weeks to buckle down and put in a good chunk of work (including our Thanksgiving training and Swim-a-Thon) prior to competing again. In December, ALL Ga-Ga swimmers not attending Senior State should plan on attending the Lanier Winter Invite fully! This meet will be held at the Frances Meadows Aquatic Center (1545 Community Way, Gainesville, GA 30501), and includes a timed final session on Friday afternoon, and on Saturday and Sunday it is a Prelims/Finals for 11&O (all Prelims are in the morning), and a Timed Final meet in the afternoon for all 10&U swimmers.
In the past, many of our 11&O swimmers and families choose to stay in a hotel on Friday and Saturday in order to avoid the excessive driving back and forth. Complete meet info is available on the event page (link below). The deadline for RSVPs for this meet is tomorrow, Thursday, November 16th.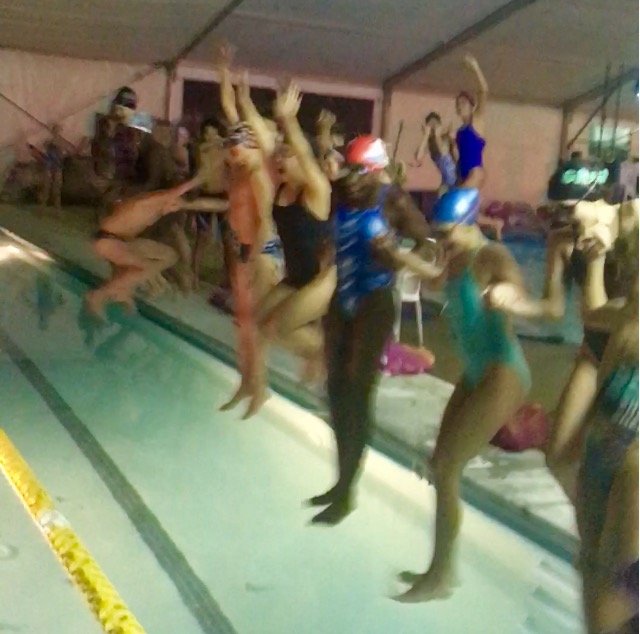 Update on Teaching Pool Construction
If you've walked into the pool area this week you can tell that the construction phase of the teaching pool is now complete! In fact, as you can tell from the picture some of our Prep swimmers didn't care the pool heater is not on yet - it looks a lot better in video!
So, right now we are just waiting to pass the last inspection so that we can close off the rest of the tent. That inspection is scheduled for tomorrow, and already have a crew set to come in Friday morning to put up the rest of the tent!
We would like to once again thank everyone for their patience and apologize for any inconvenience during this expansion phase. It did take way longer than we anticipated, and it was never our intention to still be essentially outdoors this late in the year. As we said many times before, we are very excited about the possibilities the extra water space will bring to our club!
Keep up Your Training During School Holidays
With the holidays fast approaching it is important to remind everyone to plan ahead so that your training is not interrupted. Prep and Senior are expected to keep up their training schedule during holidays (and will take advantage of days off from school to actually ramp up their training hours).
For younger swimmers, breaks of more than three to four days could set you back! If you are traveling, you should make arrangements to train the same number of workouts as your group at home will do. The best option is to arrange to train with a team where you are going; if that is not possible, find a pool with adequate training hours and space and take workouts with you (contact your coach if you need help with either one of those).
Our training schedule for Thanksgiving Week is posted below. Senior and Prep will have frequent doubles (note that Prep AM workouts will be only for P1). We should have our schedule for the Winter Break in a few weeks.
---
School-Year Practice Schedule
Blue Team - M, T, Th, Fr 5:30-6:45pm; Sat 9:30-11am
Gold Team –Mon-Fri 5:30-7pm; Sat 9:30-11am
*Wed will move to 5:15-6:45 starting late October
Prep Team – M-Th 6:15-8:15/45pm; F 6-8:15pm; Sat 7:30-11am/10:15am-12:30pm
*Wed will move to 6:00-8:15pm starting in late October
Senior Team - Mon, Wed, Fri 3-6pm; Tue, Thu 3-6:15pm; Sat 7:30-11am
*Mon, Wed 5-6:30am for select swimmers
HS Training Group - Mon-Fri 2:45-5:00pm; Sat 12noon-2:00pm


---
Gwinnett Aquatics