Printable Version
2017-18 Season Calendar
You can view the entire calendar for the next season by clicking the link above

TU Event Page

Use this link for more info on each event and to sign-up for them. You can go ahead and sign-up for all the meets between now and December! If anything comes up you can change your reply anytime prior to the deadline.
Sep 13 - Mandatory Parent Meeting (HSTG / Sr), 5:30-7:00pm
Sep 14 - Mandatory Parent Meeting (Prep), 6:15pm-8:00pm (note date change)
Sep 17 - Sr/HSTG/Prep Bike Ride
Sep 18 - Mandatory Parent Meeting (Gold), 5:30-7:00pm
Sep 19 - Mandatory Parent Meeting (Blue), 5:30-7:00pm
Sep 23 - Team Workday (more info below)
Sep 24 - Sr/HSTG/Prep Bike Ride
Sep 30 - Ga-Ga Pentathlon
Oct 7 - Blue/Gold Bike Rodeo
Oct 14 - Fall Racing Series
Oct 14-15 - Sr/HSTG Campout & Whitewater
Oct 15 - Prep Whitewater Rafting
---
Education Column
We come across a few great articles on a variety of topics - parenting, nutrition, mental training, sports parenting, drills, etc. In this column we'll share the best one every week. Be sure to check it out and click the link to read the entire article!
3 Ways Swimmers Can Develop a Better Attitude
Having a better attitude helps you face adversity, be more coachable, and of course, swim faster. Here's a few things swimmers can do to improve their attitude.
"Your attitude can be your greatest asset…or your biggest liability.
From the way you react to moments of adversity in training and in competition, to how you decide to face that 'impossible' main set, your attitude says everything about you and your swimming." click here to read the full article
---
September Payments Past Due
September fees are now past due. Payments are due on the 1st and are considered late after the 5th. Please note that if a payment is not received by the 10th, a $25 late fee is added. You can mail a check, pay in person at the pool, or log in to your on-line account and pay by credit card or e-check. You can also pay on our Square On-line Store using the link below.
Mail payments to:
Gwinnett Aquatics
4691 Bryson Cove
Lilburn GA 30047
(Or put in coach Hugh's mailbox at the pool).
---
GwinAq's Affiliate
SwimOutlet.com
Gwinnett Aquatics is an affiliate of SwimOutlet.com. Use the link below to search SwimOutlet for some of the best prices on swim equipment. Be sure to use this link and your purchase will also support our program.
---
2017 LCM Recap
Our last LCM season was certainly one to remember! We topped our best-ever score in USA-Swimming's Virtual Club Championships (VCC), and that was thanks to our swimmers' individual accomplishments - we had our largest numbers of swimmers with A times or higher (43!). But the best display of our improvement came in the whooping 10 new club relay records set through the season! Check the links below for more info on such a great season!
2017 LCM Standard Breakers
2017 LCM IMX Scores
2017 LCM Fast 5
GwinAq LCM All-Time Top 10
2017 Spring/Summer Attendance Award
2017 LCM VCC Score Summary
2016-17 SCY Recap
What a great SCY season! We scored the most amount of points ever in USA-Swimming's Virtual Club Championships (VCC), and to do that there were plenty of individual accomplishments - be sure to check them all on the links below:
2016-17 SCY Standard Breakers
2016-17 SCY IMX Scores
2016-17 SCY Fast 5
GwinAq SCY All-Time Top 10
2016 Fall Attendance Award
2016-17 Winter Attendance Award
---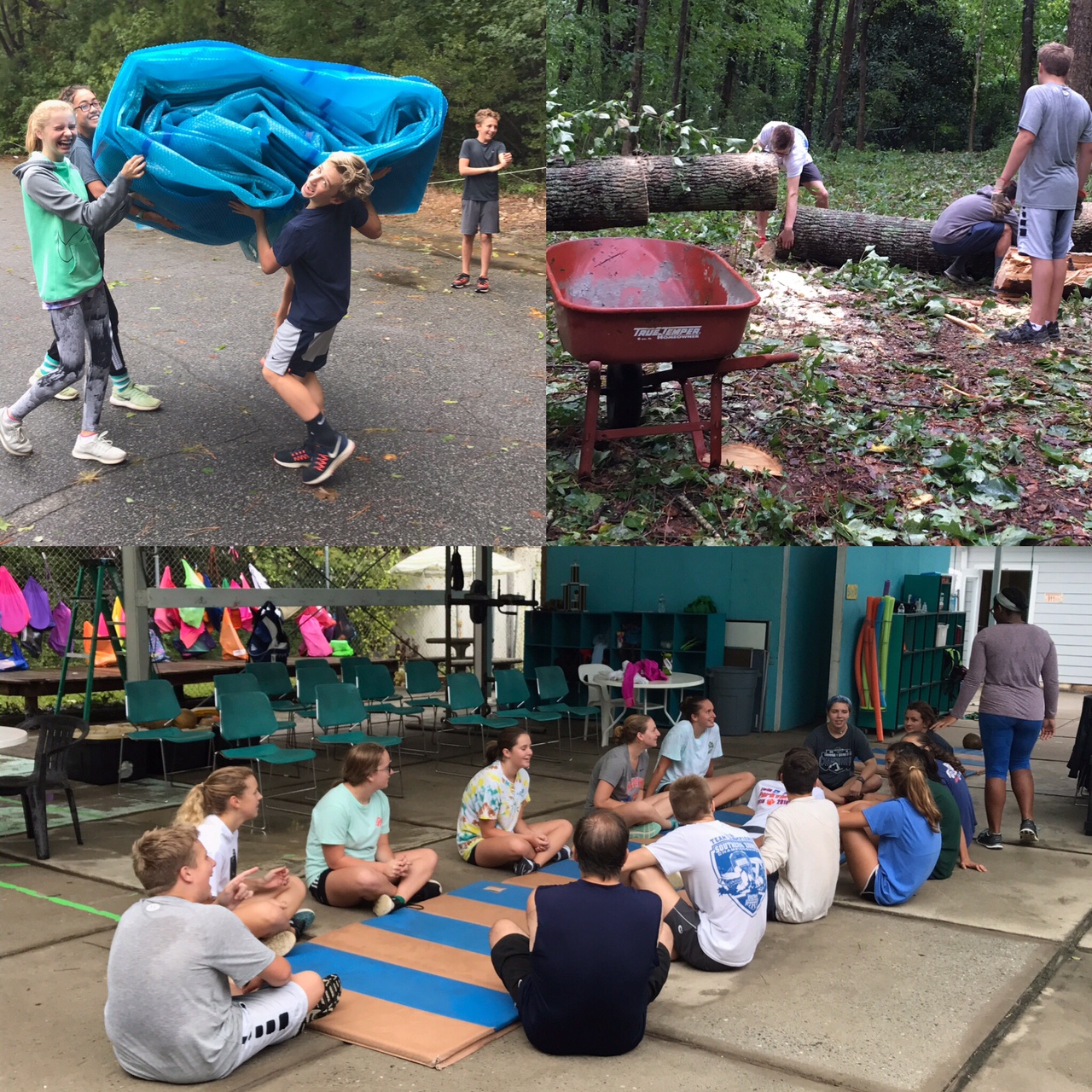 Picking Back Up After the Storm! Up!
We are happy to finally be back into our normal schedule and programming, and very happy to see everyone back at the pool! Special thanks to everyone who helped us put everything back in place on Thursday! We hope that other than a couple nights off nobody was terribly affected by the storm, and everyone can marvel once again at how great it is to have electricity at home (how did people ever do without it?). Despite that glitch in our plan, practices will start to pick up some steam soon, and we're looking forward to having all groups steadily get stronger!
We also had to re-schedule our parent meetings for Senior and Prep. Thank you to everyone who attended the HSTG/Senior meeting tonight, and remember the Prep meeting is now tomorrow, September 14th (more info on the article below). As previously mentioned, those are an important step in making sure our membership understands and is on board with our goals for Gwinnett Aquatics. As a reminder, all families are expected to make a meeting, so if you missed them last week be sure to attend the appropriate make-up meeting next week (schedule on the left column, and below). Next week we'll have the meetings for Blue and Gold groups, as well as the make-up for Sr and HSTG. After September 26th, swimmers whose families have not attended a meeting will not be allowed to swim until they have a meeting scheduled (for which there will be a $40 fee).
As always during this time, there's a lot happening in and out of the pool: our first meet is now just over 2 weeks away (and RSVPs are due tomorrow, more info below), Team Workday is next Saturday, our Big Brother/Big Sister workout is also coming up, and our Sr/HSTG Campout and Prep Whitewater trip is not too far with RSVPs also soon)! So as always be sure to read on, stay up to date and take action where needed.
Mandatory Parent Meetings September 11-19!
As mentioned above we had to re-schedule both the Senior and Prep parent meetings. Thank you to all the HSTG/Senior parents who already attended their meeting tonight. Prep parents please note that your meeting is now tomorrow, September 14th. With our team growing even more after last year, these play an important role to make sure our larger membership understands and is on board with our program's goals and expectations. Remember, ALL families must attend the meeting for the group in which their child is in (families with children in multiple groups should preferably attend the meeting for their oldest swimmer, and should then contact a coach to go over the difference in expectations for the other groups). Here's the schedule for the remaining meetings:

HSTG/Senior

: Wednesday, September 13th, 5:30-7:00pm (5:30-6:00 for new families only)


Prep

: Thursday, September 14th, 6:15-7:45pm (6:15-6:45pm for new families only),

note date change




Gold

: Monday, September 18th, 5:30-7:00pm (5:30-6:00pm for new families only)

Blue

: Tuesday, September 19th, 5:30-7:00pm (5:30-6:00pm for new families only)
There will be only one option for make-up meetings (schedule below), and after that families who didn't attend a meeting will have to schedule an individual make-up (for which there will be a $40.00 fee) prior to which their children will not be allowed to swim. For the make-up meetings, we ask that parents planning on attending please use the links below and RSVP so we can plan accordingly. Here's the schedule for each group:
Make up schedule

:

Senior/HSTG: Thursday, September 21st, 6:00-7:15pm

Prep: Monday, September 25th, 6:15pm-7:45pm

Blue/Gold: Tuesday, September 26th, 6:00-7:15pm

Family Workday Sep 23
Our Fall workday will be Saturday, September 23rd. All families are asked to come out at 8am to help put up the tent, set up the changing room, and do some yard work - there's a LOT of need for yard work this time around! If you can't come on this date, we will have some extra work 5:30-7:30pm the two days before and Monday after, and there are also some tasks that can could be started right away. If you need to work one of those please email coach Hugh beforehand to coordinate it.
First Meet Will be Ga Pentathlon Sep 30
Our first meet of the season will be our own Ga Pentathlon, to be hosted at the Greater Atlanta Christian School (GAC) - 1575 Indian Trail Rd, Norcross, GA 30093 on Saturday, September 30th. All swimmers are expected to attend!
This year we'll have to be out of the pool by noon, so all swimmers will swim in the morning. Please use the link below for more info and to sign up - replies for this meet are due tomorrow, Thursday, September 14th We usually also take our official team picture for the season at this meet, so more info on that soon.

Note on meet sign-ups: just as last year, we are using TeamUnify's platform for registering for meets - the log in info for your account will be the same e-mail and password you used when registering for the season. You can also use the TU Events page at the top left corner of this Newsletter to sign-up for a number of meets down the road already (all the meets between now and December are already there; we'll just have to add some January meets as soon as we have confirmed them). You can also do everything from your phone - the OnDeck Parents app (iTunes; Android) and you'll be able to sign-up for meets and other events, check out your swimmer's entries, and even pay your bills with your phone!
Big Brother/Big Sister practice Sep 28
On Thursday, September 28th, we'll have our Big Brother/Big Sister practice during regular workout times for Blue/Gold - however, the swimmers will be going straight into the water right at 5:30, so please arrive on time! This is a great tradition at Ga-Ga, where younger swimmers who are new to the team get the chance of working with an older swimmer. The 10&U swimmers will also have their Big Brother/Sister help them during the Pentathlon meet, and remind them to check-in with their coaches before and after each race, warm-up and down, and also make sure they make to the blocks on time.
We're still working on it, but we might also have a more experienced parent to talk to the new parents on the team and share some tips for meet days. We'll have more info on next week's Newsletter, but for the time being new families be sure to keep that time slot open. You can also get a head start by taking a look at the Swim Meet 101 documents, which have a lot of the info you'll need to know, posted below.
Pairings for this will be sent out sometime during next week, once we have all the replies for the meet.

Norcini, Grier Named to USA-Swimming's Scholastic All-American Team
Last week, USA-Swimming announced the names of swimmers who made its Scholastic All-American Team, including Gwinnett Aquatics swimmers Drew Grier and Alex Norcini (now off to college)! In order to be considered for the Scholastic All-America Team, swimmers must maintain a 3.5 GPA for the whole academic year and swim a time equal to a 2016 Winter Junior Championships qualifying time in any event during the qualification period. High school sophomores, juniors and seniors are eligible for inclusion. You can find more info on the program (and the entire list of swimmers) in the links below. Congrats, boys!
Sr/HSTG Campout Oct 14-15; Sr/HSTG/Prep Whitewater Oct 15
Our annual Senior/HSTG camping trip will be Oct 14-15. We will drive up to the campground in Ocoee TN after the morning session of the Fall Series #2 meet on Saturday and go whitewater rafting Sunday. Cost is $50 and includes rafting, dinner sat and breakfast Sunday (the cost will be billed to your account). Swimmers will need $ for lunch Saturday and Sunday. The swimmers are expected to organize transportation and tent arrangements. They will not need a lot of food/snack items.
On Sunday, Prep swimmers and parents will join the high-schoolers for some Whitewater rafting on the Ocoee river! Swimmers should leave Snellville around 7:30am with a group of parents to arrive at the outfitters by 10:30am - Hugh, Lucas and Kelsey will all be up at the rafting site camping with Senior and HSTG swimmers so we will need at least 1 parent to drive for every 4-5 swimmers going. In the past the parents have worked this out between them and we did not have to organize the transportation. Cost for that is $30 (also billed to your account).
Deadline to RSVP for both events is next Thursday, September 21st. Note that WAIVERS ARE DUE TO Coach Hugh BY Tuesday Oct 3rd (you can find them on the event pages below)!!!
Everyone Should Have Their Equipment!
Now that we've had our vendor visit us, everyone should have their gear ready for practice, as coaches will start to plan practices with equipment more often. If you missed them, you can still order online. If you have questions regarding equipment (brands, sizes, etc.) please contact a coach. Please also note, all swimmers should have a team suit for meets.

Equipment List:


Senior

:


Required - Team Suit, Snorkel, pull buoy, paddles, fins;

Recommended - team sweats/parka, fitness monitor, tempo trainer, breaststroke fins for breaststroke;

Optional - kickboard


Prep & HS Group

:


Required - Team Suit, Snorkel, paddles, pull buoy, fins;

Optional - team sweats/parka, kickboard


Gold

:


Required - Team Suit, Snorkel, fins;

Optional - team sweats/parka, kickboard, mesh bag


Blue

:


Required: Team Suit
Optional: fins, team sweats/parka, kickboard, mesh bag

Note on caps: Latex team caps are distributed at meets and your account is billed. Those that want personalized (name) silicone caps can go ahead and order using the link below (deadline for those is tomorrow, September 14th)
Friends Unlimited Online Swimshop

2017 LCM Season Recap
With a larger squad than in previous years, we topped our best-ever score on USA-Swimming's Virtual Club Championships by over 2.000 points! Our score was good enough to place us in the top 450 (out of over 3000) clubs in the nation, and 8th in the LSC - keep in mind we are 15th in size! We also had the largest number ever of swimmers achieving AA times or higher (26), as well as our highest number of swimmers with A times (17)!
And our swimmers also showed their versatility in the IMX Scores, with a whooping 32 swimmers scoring over 1000 points, 8 of which scoring over 3000, including Alex Norcini, Lauren Diehl and Marlowe Misner who all broke the club's IMX records for their age groups! We also had 6 swimmers scoring in the top-10 for the LSC in their age, 2 of which also placed in the top-50 nationally! And perhaps the best display of how much better we were as a team than ever before were the incredible 10 relay records set through the season, including the 10&U And 12&U Girls who both broke every record for their age group! You can check all of those accomplishments and a few others - Season Fast 5, All-time Top 10 - by clicking the links below. And be certain that our coaches are ready to build on all the successes from last season and top them on this one!

---
School-Year Practice Schedule
Blue Team - M, T, Th, Fr 5:30-6:45pm; Sat 9:30-11am
Gold Team –Mon-Fri 5:30-7pm; Sat 9:30-11am
*Wed will move to 5:15-6:45 starting late October
Prep Team – M-Th 6:15-8:15/45pm; F 6-8:15pm; Sat 7:30-11am/10:15am-12:30pm
*Wed will move to 6:00-8:15pm starting in late October
Senior Team - Mon, Wed, Fri 3-6pm; Tue, Thu 3-6:15pm; Sat 7:30-11am
*Mon, Wed 5-6:30am for select swimmers
HS Training Group - Mon-Fri 2:45-5:00pm; Sat 12noon-2:00pm


---
Gwinnett Aquatics