GaGa Fun Meet
1/20 - Nearly 30 GaGa swimmers competed in today's fun meet. It was a great chance to see these swimmers compete and get them some feedback as they prepare for the upcoming GA Winter Qualifier in February. Kayla Deckers even picked up her first BB time. View results using the link below. Please note the "Improv" column is using a very difficult conversion off the swimmer's best yard times so if they are close it was a good swim.
---
Gwinnett Aquatics Seventh at Eastern Classic, 11-14s Kick off year at Coaches Invite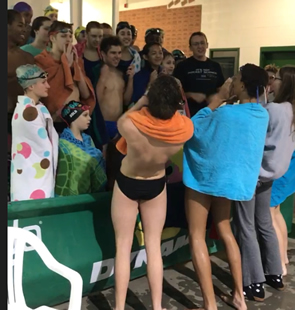 1/15 - Gwinnett Aquatics started the new year with squads at two different meets: the Eastern Classic at Dynamo and the Coaches Invite at Mountain View. At Eastern Classic our small squad took seventh matching our highest finish and scoring the most points ever. Grant Deckers and the 11-12 boys led all scorers. He combined with Sarah Jahns (the only event winner), Juliana Carey, Drew Grier and Griffin Hammett as the team's five medalists and 10 other top-10 finishers while 19 others contributed individual scoring swims. Nolan Patterson and Ryan Haskins got their first AA's of the season. Jarod Disher and Graham Simmon got their first As, while Carly Miller got her first BB time.
Meanwhile at the Coaches Invite Ella smith got her first A time while Ella Moulder and Kylie West got her first BB times and Delaney Benford her first ever B time.
Between the two meets David Duong, Nia Fraser, Ryan Haskins and Ethan McKinsey got their first state cuts.
Eastern Classic Results | GwinAq Results
Coaches Invite Results | GwinAq Results
Standard Breakers
---
GwinAq Second at Lanier Winter Invite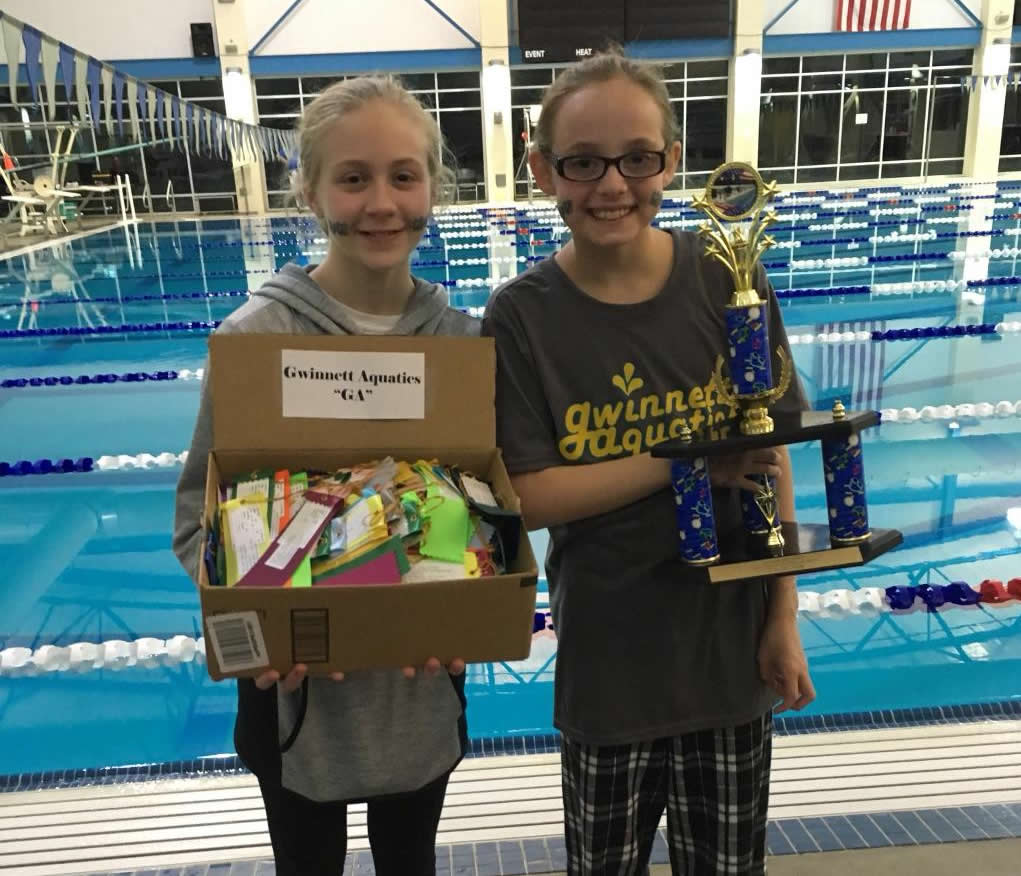 12/19/17 - Gwinnett Aquatics was unable to defend its title at the Lanier Winter Invite in Gainesville this weekend despite a charge on Sunday to get within 100 points of Enfinity Aquatics from North Carolina. It was still a strong showing given that most of our Senior team wasn't there this year. Led by 5 time champ Bria Carter and 8x champ Isaac Saenz we were very strong in the 10Us and 8Us and improved in 11-12 and 13-14s over last year.
Over the three-day meet we had six swimmers win events and nine more medal! Twelve swimmers picked up new time standards and two got their first state cut! Additionally Isaac Saenz broke the team record in the 50 fly.
Event Winners: Carter (5), Grant Deckers (2), Caitlyn Diehl, Marlowe Misner, Maggie Nguyen (2) and Isaac Saenz (8).
Additional Medalists: Lauren Diehl, Lindsey Diehl, Ryan Haskins, Emily Li, Elle Patterson, Nolan Patterson, Dakota Richie, Graham Simmon and Andy Zhu.
Standard Breakers:AA - Caitlyn Diehl, Lindsey Diehl, Ava Gawronski, Rachel Peden; A - Kate Johnson, Ethan McKinsey, Sijia She and Blake Wilson; BB - Jaden Henry and Brandon Shepard; B - Henry Breiding, Bennett Culbertson and Sarah Heppe.
New State Qualifiers: Lindsey Diehl and Addison Shaffer.
Now we have a great opportunity for even more improvement during the holidays to get ready for the Rays Invite and Eastern Classic and the bigger championship meets in February and March!
Results | GwinAq Results
Standard Breakers
---
Seniors Strong at State In Rebuilding Year
12/11 - Despite graduating over half the group last year and having almost 50% new swimmers this year, the Senior group was able to nearly match last years performance at Senior State, holding at about 14th and having 2 swimmers final and 3 score. Drew Grier and Sarah Jahns both had two scoring swims including top-10 swims in the 100 fly and 1000 free respectively. Charlie Fountain also scored in the 1000.
The meet was converted to a timed final meet on Saturday and Sunday due to weather. Our Seniors took advantage of the late starts and extra sleep to record an unusually high number of best times for a mid-season meet and to nearly triple our number of AAA swimmers.
Grier, Fountain, Wesley Carter, Griffin Hammett and Maggie Nguyen all recorded their first AAA's (All-Star times) of the season. Additionally Fountain, Hammett, Grier and Carter picked up new sectional cuts. We even had some swimmers (Jahns, Hammett) pick up new state cuts when they were pressed into swimming off strokes to lead off relays!
Results | GwinAq Results
Standard Breakers

---
Swim-A-Thon 2017 Almost a Wrap
12/8 - All the groups have now finished their swims for the 2017 Swim-A-Thon and now all that's left is to finish collecting the money and for the last couple swimmers to make up their swims.
The swimming was fierce with returning Blue teamers dropping 48 seconds per 100 on their timed swim and Prep in 2nd dropping 12 seconds per 100! Isaac Saenz broke the team record in the 10U timed 800 by almost 40 seconds!. Results available using the link below.
Currently we have raised just over $17,000 toward our goal of $25,000*. But only about 70% of the team has participated. All money is due in by this Thursday so we hope the remaining families will join in by then.
*not all funds will be reflected in the on-line total. Facebook, check and cash donations will only be added if they bring the swimmer over one of the national Swim-a-Thon prize thresholds.
---
GwinAq Swimmers Pass Early Season Test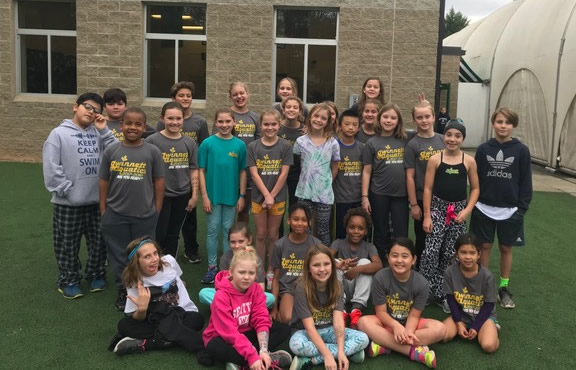 11/20 - Gwinnett Aquatics swimmers wrapped up a very successful early season meet at Dynamo Swim Center last night. Each year, the Woodie B Malone Invite is the first real test of the year for many of our swimmers and this year we had one of our best meets in a while with nine swimmers winning events and over a dozen more placing.
Isaac Saenz led the way winning four events, breaking two team records (50 and 100 fly) and recording the 1st AAAA (silver cap!) time for the team this season. Juliana Carey, Ruthie Delong, Caitlyn Diehl, Lindsey Diehl, Hailey Dopson, Charlie Fountain, Sarah Jahns, and Maggie Nguyen all also won events.
Carey and Jahns picked up the first AAA (All-Star) times of the season while Grant Deckers, Lauren Diehl, Caitlyn Petmecky and Desymber Richie got their first AA's. Sofie Rees swam to her first A time of the year and Abby Bold, Emily Morgan, Addison Shaffer and Zoe Wilson earned their first BB times, and Kayla Deckers and Paige Johnson their first B times. Fountain, Richie, Lauren Diehl, Andrew Guo, and Graham Simmon went their first in-season state cuts.
Results | GwinAq Results
Standard Breakers

---