Gwinnett Aquatics Second at Divisionals
First time higher than third in eight years. Norcini, Carey, 10U Girls break seven team records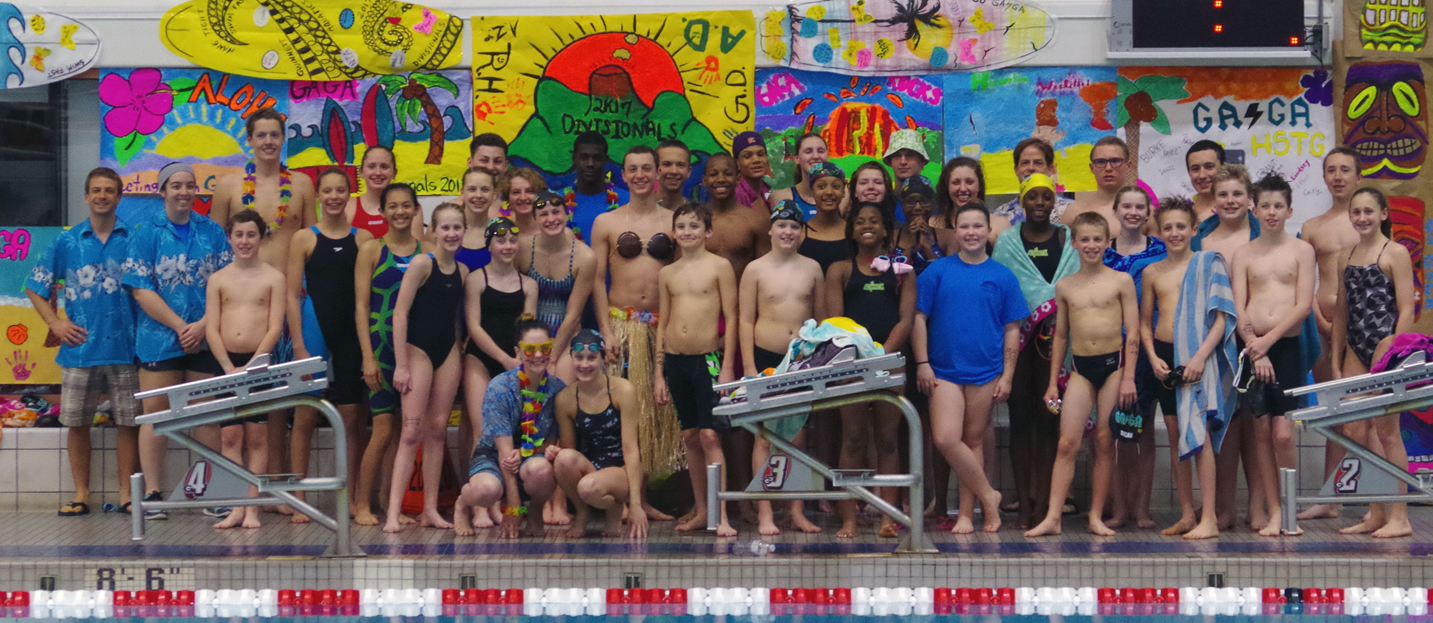 3/26/17 - Gwinnett Aquatics finished 2nd at this weekend's Divisional Champs in Augusta posting our highest score in over ten years and breaking out of third for the first in eight years. Eight swimmers combined to win 30 events: Isaac Saenz (9), Marlowe Misner (9), Brielle Mitchell (3), Alex Norcini (4), Josh Fountain (2), Drew Grier Lauren Diehl, and Sarah Jahns. A whopping 77 other swimmers scored, 46 in the top 8! Alex Norcini (4) and Juliana Carey also broke five team records while the 10U Girls broke team records in both relays.
The team also, once again, showed great team spirit. winning the spirit year again. Thanx to all the parents who helped organize the posters, shirts, theme-ware and the catered meals too. It really helped make this a special weekend for the swimmers. Standard breakers for the meet were:
First AAA (All Star) Times -

Lauren Diehl, Charlie Fountain

(first ever!)
First AA Times - Hailey Dopson, Kaylee McLester, Danielle Mitchell, Hayley Shepard, Brad Wyzykowski
First A Times -

Caitlyn Diehl, Russell Hart, Ryan Haskins, Ethan McKinsey, Ian O'Hara, Graham Simmon

First BB Times - Addison Shaffer
First B Times - Koralee Pierre
First Sectional Cuts - Charlie Fountain. Jarod Disher
First State Cuts - Disher, Lindsay Garrison, Ryan Haskins, Danielle Mitchell, Caitlyn Petmecky, Desymber Richie, Sijia She, Michael Thompson
Results | GaGa Results
Standard Breakers | Team Records
---
GwinAq Seniors 12th at ESSZ Senior Sectional Champs
3/13/17 - Gwinnett Aquatics' Senior swimmers had one of their best meets ever at the Senior Sectional Champs this weekend in Greensboro. The seven swimmers combined for 5 team records, had more swimmers medal, score and swim at night than ever before and managed a 12th place finish at a pretty competitive meet.

Alex Norcini and Josh Fountain both medaled in two events, picking up their first AAAAs, Winter Junior National Cuts and Scholastic All-American cuts. Norcini also broke three team records in 200 breast and both IMs. They combined with Drew Grier and Griffin Hammett to break the team record in the 400 Medley relay and Hammett and Daniel Johnson in the 800 free relay.
Sarah Jahns and Daniel Johnson also scored in two events, with Jahns picking up a medal for 5th in the 1650. Johnson and Hammett picked up their first AAA times of the season. Juliana Carey added some AAAs and had a night swim in the 200 back picking up 18th.
It was a great start to the last short course meets for this particular senior group. Next up we get to see the whole group (and team!) in action at Divisionals.
Results | GwinAq Results
Standard Breakers
---
GaGa Third in Medium Team Division at 14U State Champs
2/21/17 - Gwinnett Aquatics' Age Group state team had one of their best meets ever at the 14U Champs this weekend at Ga Tech. Grant Deckers, Marlowe Misner and Isaac Saenz led our largest group ever with 27 scoring swims between them including 9 top-3 finishes. Lindsey Diehl and Darnell Mitchell also scored and our relays all scored, breaking seven team records in the process. With all those scoring swims, GwinAq moved up five places from last year for our highest finish at eighth overall, third in the medium sized teams division.
Misner broke three team records and Saenz one while Misner also picked up her first AAAA time. Additionally Wesley Carter and Darnell Mitchell got their first AAA times, and Deckers, Diehl and Sophie Rees got their first AA times.
Up next we will take eight Senior swimmers to Senior Sectionals and then the ENTIRE team will finish out the season at Divisional Champs March 24-26 at UGA.
Results | Scores | GwinAq Results
Standard Breakers
---
Over 150 New State Cuts at GA Winter Qualifier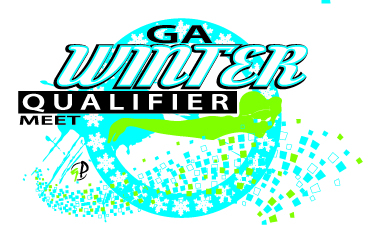 2/13/17 - The Gwinnett Aquatics GA Winter Qualifier was this weekend at Greater Atlanta Christian school in Norcross. Nearly 500 swimmers competed with over 150 new state cuts achieved. The meet featured all events for age groupers, single year age groups for awards and special tattoos for new state champs qualifiers.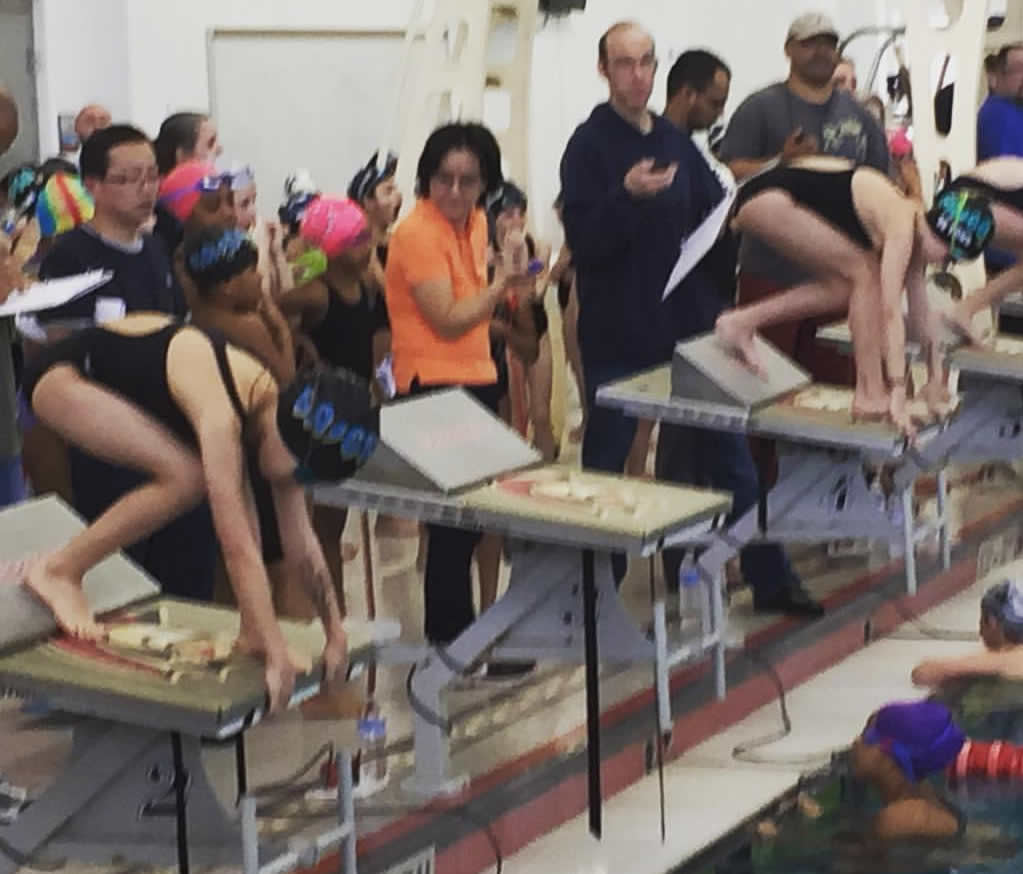 The GaGa swimmers made the most of the opportunity with Marlowe Misner breaking the team record in the 10U Girls 100 IM and a whopping eight swimmers getting their first State Qualifying times and another dozen adding new cuts. The eight new state qualifiers were Henry Breiding, Hanna Burke, Nia Fraser, Russell Hart, Victor Jemison, Nolan Patterson, Graham Simmon, and Kylie West. Jemison and Daniel Johnson got new Sectional cuts as well.
In addition Grace Fleming got her first ever A time and Sijiia She her first BB and Owen Heimel his first B time. Up next we will take our largest team ever to Age Group State Champs and Senior Sectionals and then the ENTIRE team will finish out the season at Divisional Champs March 24-26 at UGA.
This weekend also marked one of the best meets we have hosted. The energy level was great and the team made some money as well. Thank you to all our parent volunteers for doing such a great job!
GwinAq Results | Standard Breakers
---