Rosenburg Invite Weathers the Storms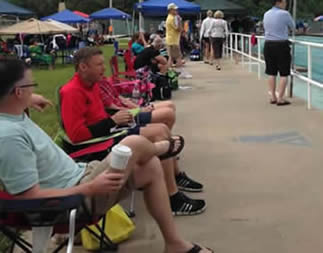 5/19 - We held first meet of the season, the Jessica Rosenburg Spring Invite, this weekend at Bransby Y. The weather was a challenge all weekend but we managed to get all sessions in and even have some beautiful sunny weather Saturday afternoon and an almost magical 3 1/2 hour break in the rain Sunday afternoon. Thank you to all the swimmers, parents, volunteers and officials who hung in there. Results can be viewed using the link below.
This is a super fun meet where the kids can win a chance to do some fun post-swim activities like a moon bounce, paddle boats and wall climb.
---
Jahns Competes at UltraSwim Grand Prix
5/12 - Anna Jahns competed in her first Grand Prix meet this weekend in Charlotte at the UltraSwim Invite. It was a festive atmosphere with a fanzone, deluxe athlete accommodations and lots of press. Anna moved up 12 places to earn a second swim in the 400 (and breaking her own team record) and finished 18th in the 800.
---
S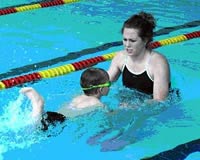 ummer Lesson Registration Now Open
3/6 - Registration is now open to the public for our Spring and Summer Lessons. Spring lessons start April 15 and will run weekday evenings. Summer lessons will start June 3 and will be offered daytime and evenings. Private lessons will be avialble as always. For more information go to our swim lessons page, or, to register, just click on the link below.
---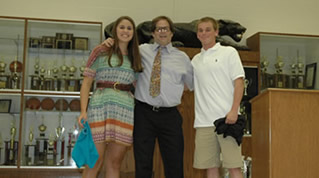 GwinAq Celebrates 2012-13 Season
4/5 - Gwinnett Aquatics celebrated is blockbuster 2012-13 season last night at Parkview HS. The athletes were recognized for their achievements and the team said goodbye to eight fantastic seniors. The night wrapped up with a slide show you can view using the link below.
Season Slide Show
Pics from the banquet
---
Gwinnett Aquatics Takes Third at Divisional Champs
Martin, Downs, Rees break seven team records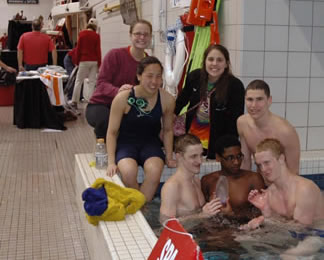 3/24 - Gwinnett Aquatics finished third his weekend at the Northeast Divisional Champs held in Athens. Led by the 13-14 boys who won their age group, and despite scoring more points than a year ago, the team placed just behind ASL and ABSC. Rory Martin earned his first ever Jr National qualifying time, while he and Bradley Downs and Jacob Rees combined to break seven team records winning nine events. Nick Leavenworth picked up his first ever Scholastic All-American time in the 1650 en route to his second win. Lindsey Diehl, Blake Reynolds, Sarah Jahns, Anna Jahns and Brad Wyzykowski also won events. The team also took home the spirit award, well-earned recognition of our great parent support group. Our theme was really fun and well executed and the cheering for the swimmers was unbelievable. We ended the meet with the most winners, records, AA AA's and A's in the last three years, and tons of new standards breakers, including:
First AAA (All-Star) Times -

Sarah Jahns, Wyzykowski

First AA Times - Nyota Edjidjimo,

Griffin Hammett, Clarke Swain

First A Times -

Jacob Callis, Abby Culbertson, Lauren Diehl, Bryce Peden, Sydney Reynolds, Riley Spruiell

First BB Times - Lindsay Diehl, Collin Houck, Lina Le, Samie Matthews, Kaylee McLester
First B Times - Ben Koschella, Sarah Burton,
First State Cuts - Brooke Braziunas, Clarke Swain
Results | GwinAq Results | Pix
USAS Standard Breakers | Season Fast Five
---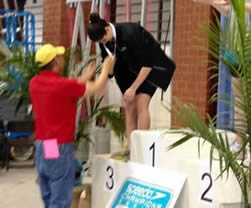 Gwinnett Aquatics 12th at Senior Sectionals
Anna Jahns Qualifies for US Open
3/17 - Gwinnett Aquatics finished 12th this weekend at the Southern Zone Eastern Sectional Championship meet. They were led by Anna Jahns who broke three team records, placed in five events and earned her first ever US Open qualifying time. Rory Martin and Nick Leavenworth also scored. Martin. Leavenworth, Peter Meadows and Dillon Kasson scored in the 800 free relay as well. Leavenworth picked up his first ever AAAA (silver cap) time. It was the highest finish at Sectionals in the last four years for Gwinnett Aquatics.
---
GaGa Five Times the Fun at Pentathlon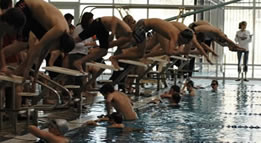 3/10 - Gwinnett Aquatics swimmers got their final tune up before the Divisional Champs at a pentathlon meet in Gainesville this weekend. Not everyone did all five events but of those who did Lauren Diehl, Josh Pingel and Griffin Hammett posted the lowest aggregate times for their age groups. Five swimmers picked up new state cuts (good for this summer!). Divisionals here we come!
Results | GwinAq Results | Pics

---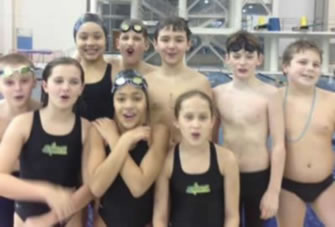 Gwinnett Aquatics Tenth at Age Group State
2/24 - Moving up four places from last winter's finish, the 14 and under swimmers from Gwinnett Aquatics finished tenth at the Age Group State Champs at Georgia Tech this weekend. We we just 20.5 points out of eighth (and fourth in the medium-sized teams division). It was a total team effort with some great relays and more swimmers than ever before scoring: Blake Reynolds (7x), Jacob Rees (6x), Bradley Downs (3x), Josh Fountain, Griffin Hammett (2x), Toriah Coffey (2x), Charlie Fountain and Sarah Jahns. Rees and Downs both broke team records. Rees set a new mark in the 13-14 boys 1000 free and 400 IM and Downs in the 13-14 boys 100 free. Downs also picked up his first AAAAs of the season, Reynolds and Jacob Finco their first AAAs, Dorian Rosenburg and Brad Wyzykowski got their AAs, and Hammett and Charlie Fountain their first A times.
We also had a fun meet this Saturday at Quinn Ridge with lots of new best times. Check out results using the links below.
State Meet Results | GwinAq Results
USAS Standard Breakers | Fun Meet Results
---
Spring Tune-up Starts April 15, Registration Full
3/5 - Registration for our Spring Tune-Up is now full. The Tune-up will run April 15-May 10 and is for 12 and younger swimmers who can already swim a length of the pool and are looking for a good head start to their summer league season. The clinic will be Monday - Thursday 5-6:15pm. If you are interested you can still register for the waitlist (there is no cost) by using the button below. We will contact you if there is an opening or we decide to open more programming.
---
86 New State Cuts at Gwinnett Aquatics Winter Qualifier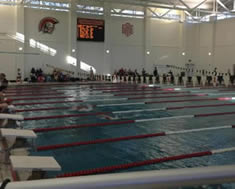 2/10 - 52 new state cuts were recorded this weekend at the Winter Qualifier hosted by Gwinnett Aquatics this weekend at the Freeman Aquatic Center at Great Atlanta Christian School. Over 400 swimmers participated. The meet closed with a modified time trial session for High School State swimmers and featured a number of new pool records.
---