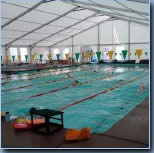 Welcome to the website of Gwinnett Aquatics, one of the oldest aquatics programs in the Atlanta area. After operating for a number of years in pools throughout the county, Gwinnett Aquatics merged with Dynamo Swim Club in 1987. For seventeen years it ran out of the county-owned Mountain Park pool. In 2004 Gwinnett Aquatics again established itself as an independent operation in order to better focus on the long-term needs of the aquatic community in south Gwinnett County. Our pool is the Quinn Ridge Pool at the end of Quinbery Drive off of Bethany Church Rd in Snellville. It is an L-shaped 6 lane 25 meter pool with a 22y leg that includes a deep end. In October we will be permanently covering it with an 8000 square foot fabric structure that will offer indoor swimming October to April and, with the sides and ends removed, a great shaded open air pool in the summer.

Our year round competitive swim team is a member of USA Swimming. Groups are available for ages 5 and up for any swimmer who can complete a length of the pool in both free and back. Besides technical instruction and workouts in the pool our program also incorporates a well- rounded fitness regimen for all ages to supplement each members physical education.

We even offer a home school program for students who can choose from a variety of programs ranging from a once-a-week stroke clinic to full participation in the team program.



We also offer swim lessons year round. Lessons are available for all ages, including adults, on weekday afternoons and Saturdays all year and in the evenings as well from March through November.

If you are looking for somewhere to swim, Positively Pools, the owner of our pool at Quinn Ridge offers swimming memberships too. They even offer group rentals and birthday parties. You can view their information at positivelypools.com.

Whatever your swimming needs, Gwinnett Aquatics is a great place to start.